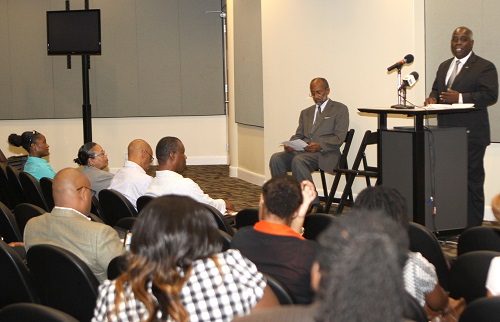 Nassau, The Bahamas — Deputy Prime Minister, Minister of Works and Urban Development, and lawyer, the Hon. Philip Davis declared that law students of the College of The Bahamas aspired towards a learned and noble profession at a critical time in the college's history. During his address of the students, August 20, he noted that the college's Council approved an autonomous LLB programme starting in September.
Expressing happiness at being able to speak with the students, he said, "you see this signature programme heralds the establishment of a Faculty of Law here at COB."
The Deputy Prime Minister addressed the law students at the Harry C. Moore Library under the theme, 'The Importance of Law in The Bahamas and its impact Nationally and Globally.'
The autonomy will end the existing franchise with the University of the West Indies (UWI) over a three-to-four-year transition period.
The Deputy Prime Minister assured the students of the Government's support, which will manifest itself by way of amendments to the Agreement forming the Council of Legal Education (CLE) to recognize and facilitate this relatively novel concept.
He said, "as a consequence, students of UWI and other accredited law faculties in the region (Guyana, Jamaica and COB) will be granted direct entry into the Eugene Dupuch Law School upon satisfying the requirements."