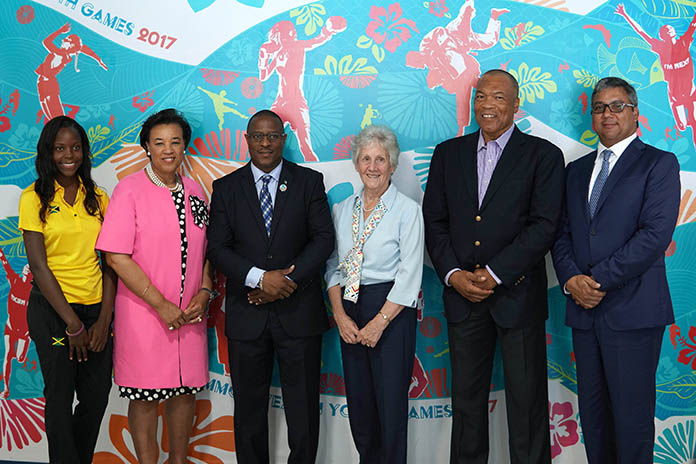 Nassau, The Bahamas. July 17, 2017. The Bahamas Telecommunications Company (BTC) kicked off the week on a productive note today as the presenting sponsor of the Commonwealth Youth Games.
Interim CEO, Dexter Cartwright said, "Today we are proud to officially announce our $250,000 investment in the sixth edition of the Commonwealth Youth Games. The Bahamas has opened its arms to welcome hundreds of young athletes from sixty-four countries. These games are particularly special for BTC as our sister company, Flow Sports holds the official worldwide broadcast rights for this year's Commonwealth Youth Games. Customers throughout the Bahamas and the region will be able to view the games live, courtesy of the Flow Sports Network."
The Hon. Michael Pintard, Minister of Youth, Sports, and Culture said, "We're grateful that BTC came on board as a significant sponsor. These are not inexpensive events, but the government believes that this gives us an opportunity to provide a platform for future world leaders."
Minister Pintard also said that these games should serve as a tremendous opportunity to attract similar federations to compete in The Bahamas. He added, "We are open to deepening our relationship. FIFA and IAAF have already held events in the country thus far this year. We are interested in developing a reputation of being a sporting power in as many disciplines as possible, therefore all international federations are on the radar for us."
This week, these blossoming young athletes will compete in Track and Field, Swimming, Beach Soccer, Boxing, Cycling, Judo, Rugby Sevens, Tennis, and Beach Volleyball.
The Commonwealth's Secretary General Patricia Scotland said, "It's brilliant that The Bahamas stepped in as they always do. The way in which these games are being put together so quickly, and so comprehensively is truly impressive. It also demonstrates exactly what The Bahamas can do, and it allows the whole world to see the beauty, energy, and passion of the people of these islands."
The festivities officially begin tomorrow with an opening ceremony at the Stadium. The games will continue until July 23rd.