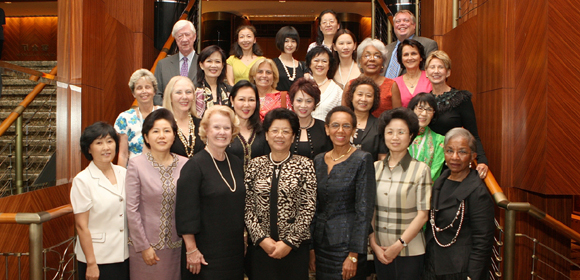 Allyson Maynard-Gibson, President of the International Women's Forum (IWF), led the largest  delegation (other than the Chinese delegation) to the International Conference on Women in Urban Development and Commemoration of the 15th Anniversary of the Beijing Declaration on Women.
The Conference was held September 16th -18th in Shanghai, China and was hosted by the All China Women's Federation (ACWF), led by ACWF President Madam Chen Zhilli who is also the Vice Chairman of the Standing Committee of the National People's Congress.
Madam Chen Zhili is the 3rd highest national office holder in government of the People's Republic of China. Senator Gibson also chaired the "Plenary: Ministerial and High-level Session" on 17th September, which included, among others, the Ministers responsible for women's affairs of Singapore, Thailand, Ethiopia, Sri Lanka, Malaysia, Indonesia, Fiji, Cambodia, Brunei Darussalam and Bangladesh.
A meeting was also held with Madame Chen Zhili during which, among other things, agreement was struck as to future cooperation between the IWF and the ACWF.
Shown in the front row of the photo from left to right are a member of the ACWF; Madam Meng Xiaosi (Vice President and Member of the Secretariat of the ACWF); Mrs. Carol Cox Wait (a past President of the IWF); Madam Chen Zhili; Senator Gibson; Madam Song Xiuyan (Vice President and First Member of the Secretariat of the ACWF); and Mrs. Fran Streets (a past President of the IWF).