Did Branville McCartney help form the questionable company?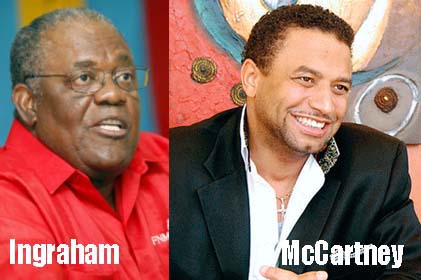 Boy, Chip don't fall far from the block! Scandal before they could even get nominated – much less elected!
Nassau, Bahamas — After millions of questions and concerns with a letter of intent by a company called Stellar Waste, Bahamas Press now understands the DNA leader may have represented questionable principals.
Bahamas Press now understands one of the persons who may be involved with questionable company is alleged to be a cross-dresser. The other person, who Bran says is a supporter of the DNA, may have been fired from a company on Paradise Island. Can Bran confirm whether he did his due diligence as is required by law?
Despite that, the company has no agreement with the government and the Cabinet of the Bahamas had no knowledge of the letter of intent. One must now wonder where in the hell all of this PR by the company is going.
One – They have no business with the Government of the Bahamas!
Two – They have not been invited to bid at the city dump.
So the question must be asked: What would they be doing that got so much attention in the media? NOTHING!
How the DNA group got a PLP MP to sign the 'flim, flam Brigga doom bam' letter of intent is another matter. But we ga say this: if my daughter comes from preschool and say she signed a contract to renovate her classroom without my knowledge, I ga tell her straight – "CALL DAT CROOKED TEACHER AND TELL HER YOU AIN'T NEVER COMING BACK TO THE SCHOOL!"
And now the question must be put – "Did Branville McCartney know he was dealing with a band of cross-dressers who had no business with the government of the Bahamas?"
We ga report and let yinner decide!