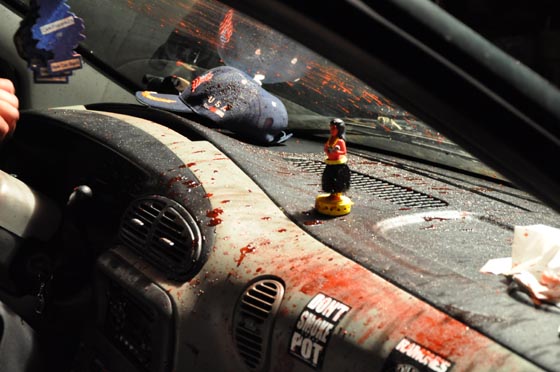 Freeport, Grand Bahama – While we were monitoring protests in Jamaica over the extradition of that island's drug kingpin, Christopher Dodus Coke, to the American government, violence erupted in Grand Bahama.
Bahamas Press sources on Grand Bahama now confirms a Zoe Pound gang war have erupted in the nation's second city. The Haitian are taking over; reeking havoc in that community and destabilizing the peace in Freeport. But here's what we know.
Two Bahamian males of Haitian decent and members of the organize gang (believed to be in their 30s) were ambushed in a van sometime after six this morning, in the Pinta Avenue, South Bahamia area of Freeport. This shooting, sources on the ground tell us is believed to be connected with a recent killing on the island.
Both males are believe to be part of an organized Haitian, Bahamian & US drug gang called ZOE POUND registered in Freeport; who are fighting for supremacy and turf. The two men, who are yet to be identified by authorities, are also believed to be deportees from the US.
Eyewitnesses at the scene of the incident say the attackers jumped out of their vehicle like Rwandan Style gangsters and opened fire on the van using high-powered war killing A-K 47 weapons. The eyewitnesses also told us the men riddled the vehicle of the occupants killing the driver while the second occupant died later in hospital.
Correspondents out of Haiti tell us, the incident is believed to be an ordered killing out of the Zoe Pound headquarters on that Caribbean island. The leader of that gang we are also told travels back and forth to the Mud and Pigeon Pea settlements in Abaco, which is represented in Parliament by Hubert 'Papa Doc' Ingraham.
Our correspondents also suggest a multi-million dollar reward is believed to have been set for several heads in the Bahamian capital. Police in New Providence are said to be on a code red high alert following the incidents, placing all national security systems on standby.
Police have yet to report the incident. WE NEED CHANGE!