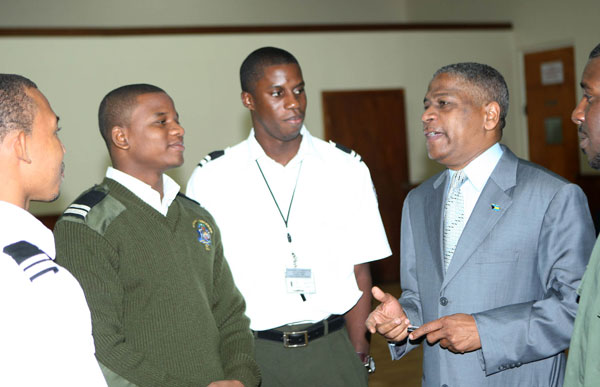 Nassau, The Bahamas – Officials of the Department of Immigration hosted a Men's Health Seminar for male officers of all ranks and sections of the Department Friday (October 8), aimed at improving the health consciousness of those employees.
A similar seminar has been scheduled for female employees.
Director of Immigration, Jack Thompson, said the seminar was the first in a series of health initiatives designed to bring attention to healthy lifestyles and choices for employees of the organisation.
"Poor health in the workplace affects productivity and when productivity is affected, we all know what happens," Mr. Thompson said.
"Secondly, it affects the families of our employees as no matter how good of a health insurance plan one may have, poor health affects individual finances which can create stress for the employee and their families as you then have to take money and put into your health challenges. When that happens, something has to be placed on the back burner, creating additional strain on family finances.
"The overarching concern for me is that it is important for our officers at every rank to understand that the Director of Immigration and his Management Team are concerned about their welfare.
"Of course we want to be productive as a department given the mandate we have been handed, but these seminars have been designed to truly assist our men and women in improving their health and by extension, the quality of life for themselves and their families," Mr. Thompson added.
Director Thompson said Friday's seminar, coordinated by Assistant Director of Immigration Dwight Beneby, focused on two key health areas affecting men – prostate health and diabetes.
"We thought it was very important as leaders to show our concern with respect to the health issues of our men and to take a half-day to focus on these two many concerns facing Bahamians everywhere," Mr. Thompson said.
"Diabetes and prostate health/prostate cancer are two of the more serious challenges facing Bahamians and so we brought in Dr. Joseph I. Edwards, a urologist, and Bradley Cooper of the Bahamas Diabetic Association to make presentations on the measures our male personnel can utilise to remain healthy," Mr. Thompson added.
Director Thompson said organisers decided to focus on just two areas in order to give presenters an opportunity to delve in-depth into their areas of expertise.
"We did not want to cram it. Next year no doubt we will go into other issues, but by organising it this way, it gave us an opportunity to really dig deep into these two specific areas and give Dr. Evans and Mr. Cooper opportunities to be able to really go into detail with their presentations and answer as many questions as possible from the men.
"Preserving men's health in the country is very, very important because many men are still the breadwinners in the families and so if they aren't healthy – whether it's mentally physically or socially – that unhealthiness can have a domino effect on entire families," Mr. Thompson said.
"That is not to say that women's health is not as important because it is and we will conduct a similar exercise for the women in our workplace as some of them are also the breadwinners in their families; some are mothers and as we know mothers play a critical role in raising and nurturing children and families and so we have to ensure that they are well mentally, physically and socially.
"The other part of this equation is that the healthier all of us at the Department of Immigration are, the more productive the Department will become and conversely, the more productive the Department is, the better we all serve our country," Mr. Thompson added.