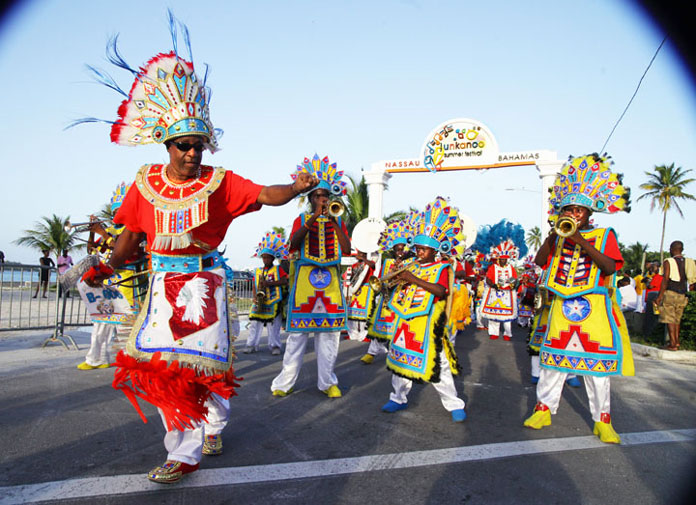 NASSAU, BAHAMAS – Residents and visitors of the Islands of The Bahamas are excited for the return of the hottest competition and festivals of the summer.
While celebrating the 40th anniversary of the slogan "It's better in The Bahamas", the Ministry of Tourism presents Junkanoo Summer Festival.
This thrilling event, which is a miniature festival of the Bahamian winter festival Junkanoo, will be held four Saturdays in July at Arawak Cay.
Each week will bring an electrifying competition:
WEEK ONE (SATURDAY, JULY 2ND)
Music competition.
WEEK TWO (SATURDAY, JULY 9TH)
Time-Off: due to Independence Celebrations.
WEEK THREE – (SATURDAY, JULY 16TH)
Choregraphy/Dance competition
WEEK FOUR (SATURDAY, JULY 23RD)
Costume/Overall Performance
WEEK FIVE – (SATURDAY, JULY 30TH) – THE FINALE OF THE JUNKANOO SUMMER FESTIVAL:
Combo/Award ceremony/ All Bahamian Concert
A mixture of thunderous music, explosions of colourful, eye-catching costumes and magnetic choreography will be the vocal point of the festival that begins on July 2.
Twelve groups of both the A and B categories of Junkanoo will compete for top prizes in music, costumes, choreography and overall best performance.
There will also be individual competitions in best beller, drummer, and king and queen of Junkanoo.
But before the exhilarating competition begins, the festival kicks off at noon with mouthwatering dishes from over 30 Bahamian vendors.
Additionally, authentic Bahamian souvenirs can be bought – from straw bags and jewelry to Bahamian artwork.
There will also be a kiddie corner, which will feature a number of Bahamian games including sack races, pony and horse rides, egg and spoon races among others.
There are also fun games for the adults with corn, watermelon and pineapple eating, conch cracking and Andros crab catching competitions.
The crowd will also be wowed by performances from the military marching bands –the Royal Bahamas Police Force, Royal Bahamas Defence Force and Department .
Director of events Charity Armbrister spoke about the opening of the festival.
"This opening will be extremely special. We don't want you to miss it. We are having some extremely special attractions and entertainment for you. We will have on the water entertainment by Powerfly. The décor is going to be in tune with our theme. We are celebrating the 40th anniversary of "It's Better in The Bahamas" and we are really excited," she said.
But the summer fun does not end there.
Goombay Summer Festival returns every Friday in August.
Goombay, a signature event of the Ministry of Tourism, will be held celebrating the life of former Minister of Tourism the late Sir Clement Maynard.
The family fun-filled event, which will include rhythmic dancing, fun competitions, a kiddie corner and all Bahamian concerts, will also be held at Arawak Cay.
Both festivals are being held nationally.
For more information, visit www.bahamas.com/summerfestivals.