Thanks to Coast Guard all is well.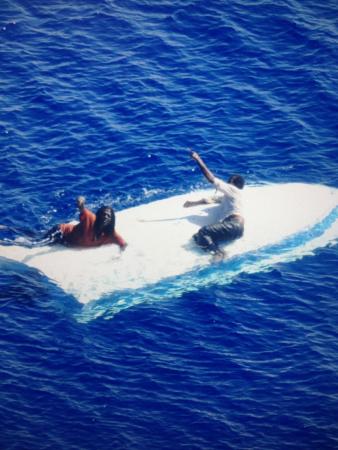 MIAMI — A Coast Guard helicopter crew safely hoisted two Bahamian citizens from their capsized vessel east of Riviera Beach, Fla., Saturday.
Coast Guard Sector Miami watchstanders received a report of a capsized vessel with two people sitting on the hull in the vicinity of Riviera Beach Saturday afternoon. Watchstanders quickly diverted the Coast Guard Cutter Comorant and authorized the launch of an MH-65 rescue helicopter from Air Station Miami. The helicopter crew arrived on scene, assesed the situation and lowered a rescue swimmer to render assistance. The two people stated they had been drifting for eight days and had ingested salt water.
The rescue swimmer determined the people needed to be medically evacuated immediately and safely coordinated a hoist with the helicopter crew.
The two people were transferred to Del Ray Medical Center for further treatment.
The Coast Guard urges all boaters, especially those transiting offshore or to remote areas, to carry an Emergency Position Indicating Radio Beacon or a Personal Locator Beacon. EPIRBS and PLB's save valuable time during maritime emergencies by transmitting electronic distress signals and GPS coordinates. When EPIRBs are properly registered, they also provide first responders with owners' contact information and vessel descriptions, which is vital information during search and rescue cases.
For additional boating safety tips, go to http://www.uscgboating.org/.