Investigators are on the ground investigating closed bank in Bahamas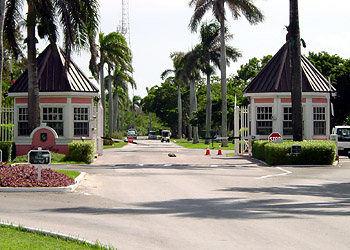 Nassau, Bahamas — Breaking News and information coming from behind the gates of Lyford Cay tell us a Hedge Fund Billionaire could soon end up behind bars just like Bernie Madoff. You would remember how the Madoff scandal delivered a big payout — the largest-ever bank forfeiture, as well as the biggest Department of Justice penalty for a Bank Secrecy Act violation.  The case also came with an admission from the financial firm that it might have stopped the scam it claimed it knew nothing about. Madoff's Ponzi scheme involved some $65 billion in bogus investments, ripping off thousands of individuals and groups. The bank is paying $2.5 billion in penalties related to the scam.
Bahamas Press has learned agents connected to the investigation of the Madoff Ponzi Scheme are right now deep in Lyford Cay and on New Providence investigating a closed bank in the Bahamas operated by the billionaire. We know this will be an interesting story for Bahamas Press as those behind the gates believe they are immune from punishment!
Bahamas Press will deliver the GOLDEN CUFFS on the billionaire who we know is somewhere far from the Bahamas in hiding – but the agencies of the US are on his trail…IF YA DON'T LAUGH YOU GA HOLLER!!!!!