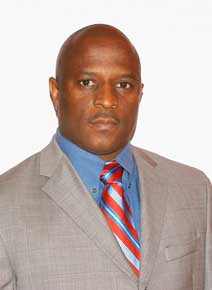 San Salvador, Bahamas — A second bad candidate in the Free National Movement Government has decided to give up his bid for the party's nomination in the Cat Island, Rum Cay and San Salvador seat.
BP can report Senator Michael Pintard has withdrawn as a candidate for the constituency following a wave of bad press and a lack of support from the National Party.
Sources close to FNM tell us, "Pintard is a bad choice for a family island seat. It is near impossible for him to beat a veteran and home reared islander like, Brave Davis, who has risen to national heights in his political career.
"We have tried Pintard in Blue Hills and that hope lasted for only one week. Within days while he canvassed the constituency, key Party executives resigned. We then asked him to go to Bamboo Town, but he stalled in taking up that offer. We asked him to look at Marco City and he bawled; not wanting to go there. And today we have news he has abandoned the Cat Island, Rum Cay and San Salvador offer. He is a Bad Candidate and a waste of time."
Pintard was rejected a few elections ago in an inner city community because of his lazy campaigning style. Since that election from the looks of things, his ability to work with people has gotten worst.
A major FNM campaign general in Blue Hills told BP, "He is not a people's person. He lasted only one week on the ground. And if he cannot get support on the ground in Nassau I wonder what make us think he will get support on a family island."
The real MP for Cat Island, Rum Cay and San Salvador, Brave Davis, was acting as if he was already crowd Deputy Prime Minister, where in just  hours after Irene's passage on the islands he landed in the hardest hit areas of his constituency even before NEMA and the PM could announce plans to visit islands.
Shortly after, Davis then organized massive aid to pour into the islands affected, barging in roofing materials and supplies to assist members of his constituency. In addition to that, Davis wrote government agencies demanding to quickly address the pressing distress of his constituents, which had lost 90% electricity power across Cat Island. Within hours of that communication, BEC mobilized teams along with supplies to the hard hit Cat Island Community.
A veteran former politician in the FNM noted, "That's what you call a real MP, a man who has the ability to move agencies of the government to act even while in opposition."
There is no telling where Pintard will show up next, with little money and a bad record of building an election team, perhaps he has ended his political career before it starts.