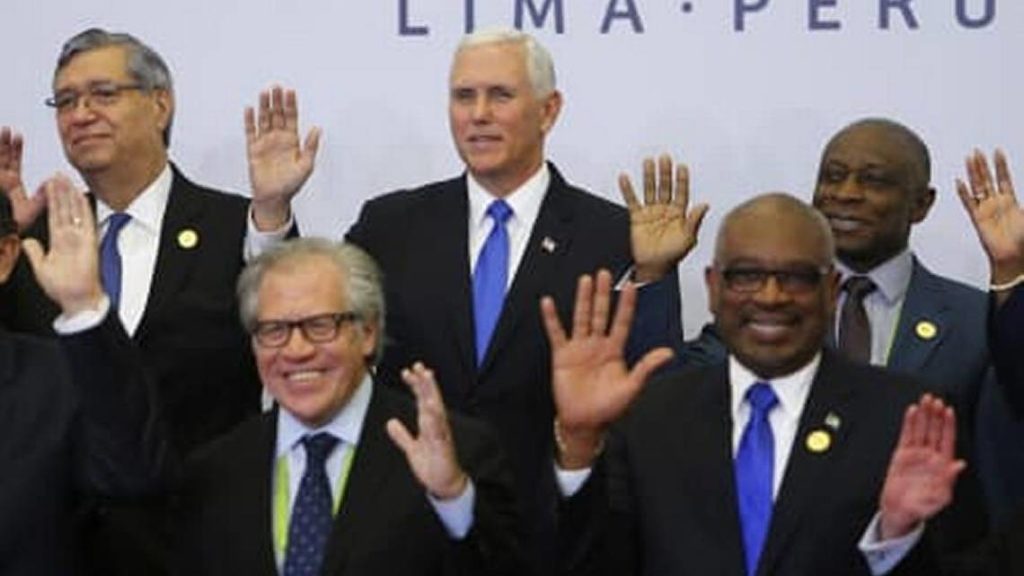 LIMA, Peru — One of the things that surprised me the most at the 8th Summit of the Americas was not an issue that was on the agenda, but one that was not. Still, it loomed large in private conversations among heads of state: the fear of a U.S. trade war with China.
President Trump's escalating trade confrontation with China could seriously harm Latin America, high-ranking officials, business leaders and economists told me. The United States and China are Latin America's top trading partners and major sources of investment.
The summit's agenda focused on joint U.S.-Latin America efforts to reduce corruption. In addition, U.S. officials and diplomats from some of Latin America's biggest countries met to discuss new ways to press for a restoration of democracy in Venezuela.
But Trump's last-minute announcement that he would not attend splashed like cold water on the summit and caused some other heads of state to cancel or shorten their visits. Trump is the first U.S. president to skip this summit in almost 25 years and the first one in recent memory who did not set foot in Latin America during his first year in office.
The White House said that Trump had to stay in Washington to monitor the Syria situation, but few here took that excuse seriously. U.S. presidents have routinely monitored crises and even launched attacks on other countries from abroad. Surely Trump could have launched the three-nation missile strike in Syria, as former President Obama did in the Libya crisis during his 2011 visit to Brazil.
Before the summit, speculation said that a U.S.-China trade war would benefit Latin America. The argument was that if China raises its tariffs on U.S. soybeans, pork and other exports in retaliation for Trump's tariffs on Chinese goods, that would create more export opportunities for Latin America.
But Alejandro Werner, the head of the International Monetary Fund's Latin America department, told me that a potential U.S.- China trade war would depress the global economy and lead to a recession that would slow the demand for Latin America's exports. "There are no winners and losers in a trade war," Werner said.
Mexico and Central America would be hurt because of their heavy dependence on exports to the U.S. market, as well as from family remittances and tourism from the United States. And South American countries, which export mostly raw materials, would suffer from a slowdown in China's demand, which would depress world commodity prices.
The mere threat of a U.S.-China trade war is bad news, because it creates uncertainty and may inhibit investments in industries in addition to those that already have been targeted for tariffs, Werner said.
"If you are the CEO of an industry that has not been affected by tariffs, but that could be affected in the future, you may adopt a wait-and-see attitude in your investment and expansion plans," Werner told me.
Fears of a U.S.-China trade war have escalated since March 9, when Trump announced that he would impose a 25-percent tax on steel imports and a 10-percent tax on aluminum imports. China retaliated by threatening with imposing $3 billion worth of tariffs on about 130 U.S. exports, including fruits, nuts, wine, steel pipes and pork.
On April 3, Trump threatened to add another $50 billion in tariffs on almost 1,300 Chinese goods, including machinery and medical equipment products. On April 4, China reciprocated by threatening to add tariffs on another $50 billion on about 106 additional U.S. products, including soybeans and cars.
Gustavo Grobocopatel, a leading Argentine soybean exporter who briefed several presidents here about the challenges of Latin America's agribusiness sector, told me that, "In the short run, China's potential tariffs on U.S. soybean exports would hurt the United States, but in the long run it would hurt us all." He added, "It would create uncertainty and volatility."
Trump's erratic trade policies are a major cause of concern for Latin American leaders. Last year, Trump withdrew from the 12-nation Trans-Pacific Partnership trade agreement, which included Asian and Latin American countries. Last week, Trump signaled he may want to rejoin that deal.
Trump also periodically threatens to pull out from the U.S.-Mexico-Canada North American Free Trade Agreement. But then, he also occasionally says that he wants to stay in that deal if certain changes are made.
Watching the world from this regional summit, it looks as if the planet is upside down: The United States is the populist, anti-free trade, unpredictable and unreliable government, while leading Latin American countries sound like the voices of reason.