Guest dies in Central Eleuthera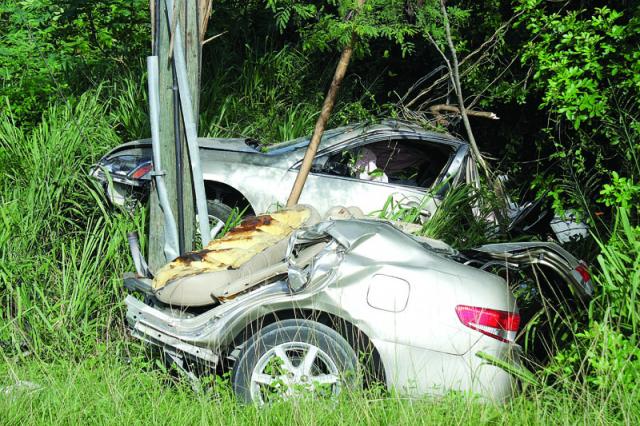 Wonderful vacation ends in traffic Fatality on Eleuthera
Nassau, Bahamas — Police are investigating a traffic accident that occurred in Eleuthera on Tuesday night, that has left a male visitor from the USA dead.
According to Police reports around 11:10pm a traffic accident occurred at Rainbow Bay, Queens Highway, Central Eleuthera, involving a blue 1999 Chevy Malibu vehicle that was traveling north (driven by a resident of that island) and a 1996 champagne Chevy Lumina SD vehicle that was traveling south. (Driven by the deceased).
The deceased succumbed to injuries received at the scene.
The driver of the Malibu vehicle along with a male passenger is being treated at the local clinic for injuries received.
Additionally, three (3) male passengers of the vehicle driven by the deceased are also being treated at the local clinic for injuries sustained.
A team of officers from the Traffic Department in New Providence are at this hour in Eleuthera to continue investigations into this matter.
POLICE REQUEST S PUBLIC'S HELP IN SOLVING THREE (3)ARMED ROBBERIES
Police are requesting the public's assistance in locating the suspect/s responsible for three (3) armed robberies that occurred on Monday 4th February 2013.
In the first incident, around 2:00pm a man armed with a handgun entered a supermarket in Peardale, where he demanded cash and robbed that establishment of an undetermined amount of cash. The gunman then made good his escape on foot.
In the second incident, around 7:45pm a man was walking on Malcolm Road East, when a man armed with a handgun approached him, robbed him of cash and fled on foot.
The final incident occurred around 10:30pm. A woman reported that she was about to enter a vehicle driven by a male friend in front of her Baillou Hill Road residence, when four men in a vehicle approached her and robbed her of laptop computer and two cell phones. The men then sped off.