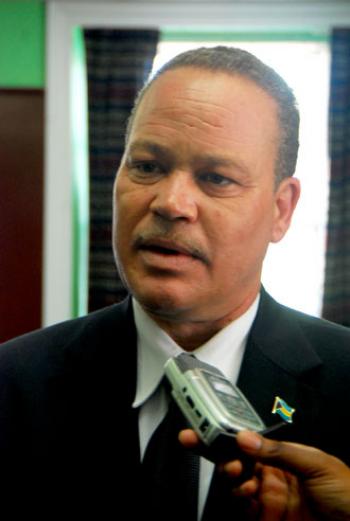 Nassau, Bahamas – Grand Bahama is not on its knees anymore, under this WUTLESS FNM it has now turned on its belly. They think the people are THAT FOOLISH and STUPID to forget who has represented Grand Bahama for more than 20 years.
The now 'Delusional' Chairman is still recovering from that left hook delivered to him at the FNM convention and therefore, cannot get his thoughts together. He has forgotten and can't remember how back in 2007 Grand Bahamians had their JOBS, Homes, Cars and some businesses. And here it is now under the WUTLESS FNM, Grand Bahamians are left bankrupt, broke, busted and disgusted.
To hell with what the PLP did for Grand Bahama! For the last 3 terms or 17 years Neko Grant was their MP. C A. Smith was a Grand Bahama MP. David Wallace was a Grand Bahama MP, Zhivargo 'CryBaby Sour' Laing was Grand Bahama MP, Kenneth 'Doofus' Russell was their MP and Vernae 'THE VILLAGE IDIOT' Grant was also an MP representing Grand Bahamians in the seat of power.
We submit. Therefore, for more than the last 20 years with WUTLESS FNM representatives, Grand Bahamians have gone from BOOM to BUST! With FNM representatives, they have past BROKE and Disgusted. Under FNM representation their businesses have closed and their families relocated. UNDER WUTLESS FNM representatives' watch Grand Bahama has gone from bad to worse to 'WUSSA'!
Under FNM representatives Grand Bahamians have moved from being on their knees to crawling on their belly. EVEN THE 'CHURRIN' is getting molested and JUSTICE was hijacked with the aid of the Ministry of Education. He never came for the aid of the little darling of the nation. CARL 'UNDERNOURISHED' BETHELshould hang his head down in SHAME to ask Grand Bahamians what the PLP did for them, while he watched and grins as the city wiggles on the ground half dead.
Bethel never lifted a finger to come to the aid of Grand Bahamians, who were left out of light on Fridays. He said nothing to STOP Hubert Ingraham with his nasty STOP, CANCEL and REVIEW POLICY! He said not a word to stop Hubert from dragging the feet of women and children onto the streets and out of their trailer homes following the FNM election to the office. He said nothing when his government fired more than 2,600 temporary workers out of the Public Service back in 2007.
Nevertheless, he asks Grand Bahamians to look at the PLP record on Grand Bahama? Some people have no shame I tell ya! NO SHAME! Bethel you should be ashamed of yourself to insult Grand Bahamians in this way. WE KNOW BETTER! And guess what in 20 months hereafter BETTER IS COMING!
CHANGE IS COMING TO GRAND BAHAMA with its FIVE [5] FNM MPs three [3] of which sits in the Cabinet!
TAKE DAT!
WE NEED CHANGE!