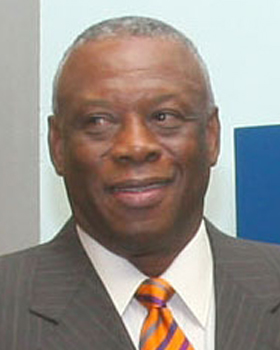 <<< Al Jarrett Former Chairman of BEC
Former Chairman of BEC Al Jarrett is defending his record and has confirmed that the corporation escaped bankruptcy under his tenure, following the mess left behind by the first Ingraham government. Jarrett was speaking on a popular radio show in the country.
He responded to comments made in the House of Assembly by Phenton Neymour where the minister commented that BEC is losing money due to the decisions by the former Christie administration.
"Today, due to a number of decisions made by the previous (PLP) administration, combined with external factors, BEC is presently losing money. Its financial position is not strong and will have to be corrected," the minister said as he told Parliament.
Jarrett pointed out the dire state of BEC was a direct results of the first Ingraham government,  confirming that they [Ingraham government] almost ran the corporation into bankruptcy. He confirmed that decisions made by the Christie administration saved BEC.
"BEC at that time was in all sorts of debts, mostly generated by the IDB," he said. "Most people think that the IDB is a remedy that provides you with good loans as you improve as a country. What I found about these loans that were on the books at the time [is] we were paying almost 300 percent on interest than what we could have gotten in the market.
"Every time they came for payment they did a kind of weight in average of what they said was the cost of funding and then they passed the cost on to BEC causing a kind of weighted interest. The three months before we paid out that loan the last interest rate they sent to us was 8.3 percent on one of the $50 million loans. We had to pay 2.2 percent on our Euro dollar loan," Mr. Jarrett said.
Bahamas Press has received a detailed report of the shocking FACTS revealed by Jarrett of the findings at BEC at the time. Today, Bahamas Press releases much of that report on the state of BEC when discovered by the former chairman. Again to you our readers and stakeholders of BEC, here again Bahamas Press delivers REAL NEWS.
Enjoy as you look deep inside the books of BEC.
CLICK HERE TO DOWNLOAD A B.E.C REPORT