Dark horses shall emerge from the bowels of masonic ashes…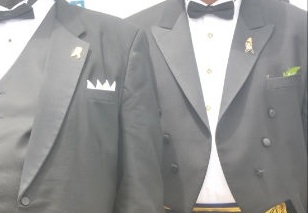 Nassau, Bahamas — BP has been reliably informed that brothers are now refusing to attend the meetings of Royal Eagle Lodge #1 which is a part of the Prince Hall Lodge. Brothers have exercised their rights not to attend as they have finally come to their senses and refused to stand for their Worshipful Master, Uriel "Da Tief" Johnson's, wayward ways of womanizing, orgies, random impregnations and most importantly stealing from the lodge.

Last time BP took a look at this lodge we reported that a gossip/sex ring of Royal Eagle Lodge brothers and Greeks in the South West Bahamas was very active and causing serious dissension with certain brothers of the lodge who found these acts despicable. To make matters worse it was discovered that the leading Greek woman of this pact is the chief adviser to the Worshipful Master telling him what to dish out to which brother who she does not like while holding her money over his head.
The brothers have refused to be a part of a Lodge knowing that a woman is running it. This seems to be the nature of Royal Eagle Lodge as the Worshipful Master that reigned before Da Tief did the same thing. He had his biggety, rude, spoil brat girlfriend running the lodge and selecting his cabinet members as well.
As BP said before the other constitutions in freemasonry in the Bahamas have Prince Hall Lodge as a laughing stock due to its crazy practices and what is allowed to take place. If you know a man is a tief, why would you put him in charge of a lodge where money is continually coming in? Do you want to catch him in the act or are you also a recipient of his "booty"? What in the hell is dis!!??
BP has been informed of multiple incidents in Royal Eagle Lodge that has caused disarray among the brothers. This is silly season in Prince Hall Lodge. A time when brothers will sell their souls to the devil for titles in the lodge. BP has reserved those stories to run during the usual pre-election series. This election is going to be interesting. Dark horses shall emerge from the bowels of masonic ashes.

WE REPORT! YINNER DECIDE IN DECEMBER!
SO MOTE IT BE!