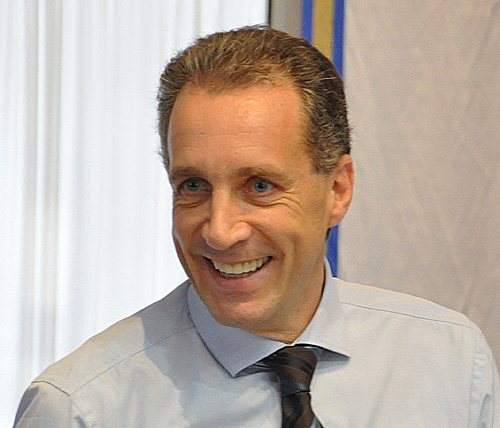 Customers living, working or vacationing in The Bahamas are texting more, talking less and accessing data at rates and speeds that not long ago would have been the stuff of science fiction, thanks to an 18-month, $42.8 million mobile network upgrade by BTC that has catapulted the local telecom environment ahead of many parts of the world.
That upgrade has sent smart phone sales and data usage soaring, said BTC CEO Geoff Houston who unveiled details of the upgrade and the response to it to more than 120 business and civic leaders at the 9th annual Abaco Business Outlook September 26.
"What we saw when we upgraded our mobile offerings was an almost insatiable appetite among Bahamians for the latest devices, the fastest downloads, the newest, the best," said Houston. "When we launched 4G (the fastest download speeds available worldwide) mobile voice traffic increased by 60%. Mobile data was up by 800%. Before we upgraded, 3% of our sales were smart phones. Today nearly half of all our phone sales are smart phones."
The project to overhaul the mobile experience dominated the company's agenda in the first year following the April 2011 privatization.
"The platform created a brand new wireless experience," said Houston. "As part of a $3 billion conglomerate, instead of a $350 million standalone, BTC has been able to benefit from greater buying power. That allowed us to slash our mobile data plans by 25%. We reduced post paid charges. We reduced the cost of pre-paid minutes. We eliminated inter-island toll charges for calls originating from mobile phones. We are launching 4G in all the islands and hope to have that completed well before the end of this year. Andros and Cat Island are complete. Long Island should be done by mid-October. Most of New Providence and Grand Bahama are complete with a few areas still being worked on."
According to BTC's Senior Manager for Public Relations, Jerome Sawyer, BTC aims to finish the build-out with enhanced 2G for voice and 4G for data by year-end.
"We replaced the antiquated legacy 2G platform for voice with a new 2G platform for a better voice experience," he said. "Here in Abaco, where we have installed new cell sites, you only have to think back two years ago to what it was like. If you had turned around in your own house, you would have lost a call. Or if it rained or if you were out of range of a cell site."
There are now 42 cell sites in Abaco, second in number only to New Providence with 46. There are 183 cell sites throughout The Bahamas.
With the upgraded platforms in place or nearly complete, BTC plans to spark sales of smart phones, especially for holiday gift-giving.
"We have discovered that a lot of customers still do not know the benefits of high speed data and how it can improve their lives so we will be launching an educational campaign in the coming weeks to demonstrate those benefits and ensure that everyone understands how it can work for them personally or for their business," said Sawyer. "What's especially rewarding is that these upgrades have allowed us to provide universal service to our customers so no matter how remote your settlement is, you can enjoy the same level of service that the most sophisticated office in New York or London has. BTC subscribers in Exuma, Eleuthera, Abaco, Cat Island and now even Andros can enjoy the same level of service as family and friends in New Providence and Grand Bahama.  And when we undertake the next phase The Bahamas will be on par, if not ahead of some developed countries in telecommunications."
In the past 18 months, BTC also transformed the customer experience, opening its first flagship store in the Mall at Marathon before Christmas last year and eight more since on six islands. Others are under construction. The company made it easier to top up online or at retail outlets for as little as a $1 and is now aiming to take 2300 models of outdated phones out of customers' hands by advertising attractive trade-in-and-up offers between now and October 6.