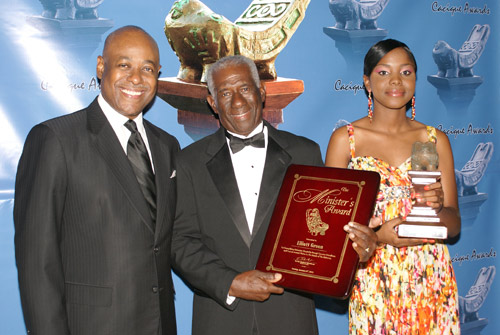 Nassau , Bahamas  – Winners of the 15th Cacique Awards came from across the length of the islands of The Bahamas when they revealed at a black-tie affair Sunday at Rainforest Theater.
In publicly nominated categories such as Sustain Tourism Development, Bimini Field Station, also known as the Shark Lab, won the award. Tristan Gouttridge, director of the Field Station, urged Bahamians to protect the environment and wildlife that make The Bahamas special.
Anatol Rodgers High School's Tourism Studies teacher Janelle Cambridge-Johnson, emerged as the winner of Human Resources Development. While accepting her award, Ms. Cambridge-Johnson said leaving the hotel industry to teach was the best career decision she ever made.
"My role as an educator is vital, not only to what we do in the classroom, but I mold, I shape, I encourage, I inspire. I plant seeds of tourism excellence into my students' cognitive domain," she said to applause. "I love my job. I do not know how long this life's journey will allow me to live. But what I do know is, as long as I live, I will continue to be a consummate educator…today…tomorrow…every child, every chance, every day. Tourism is definitely my business."
***image2*** Stuart Bowe, a Sr. Vice President at Kerzner International, was named Hotelier of the Year. He thanked his wife, Vanderine, and children for helping him accomplish many things in tourism. He also thanked professional colleagues, including former Lifetime Achievement winner George Myers, former Hotelier of the Year George Markantonis and former Lifetime Achievement and Hotelier of the Year, J. Barrie Farrington.
"Then there is the Atlantis Family, several thousand strong," he said. "These are customer service warriors."
Winners were also selected from Andros, Grand Bahama, Long Island, and Abaco. Nominations for the 16th Cacique Awards will open mid-year, 2014.
Winners of the 15th Cacique Awards are:
David and Phoebe Gale – Lifetime Achievement Award
Capt. Eugene Munroe, Nassau – Transportation
Janelle Cambridge-Johnson – Human Resources Development Bimini Biological Field Station – Sustainable Tourism Development
Merton Thompson, Andros – Creative Arts
Malcolm Spicer, Abaco – Sports, Leisure & Events
Elliot Green, Andros – Minister's Award for Hospitality
Stuart Bowe, Atlantis – Hotelier of the Year
Desiree Moxey, Wyndham Nassau Resort – Sales Executive of The Year
Devin E. Johnson, Sheraton Nassau Beach Resort – Chef of Year
Renardo Sweeting, Radisson Lucayan Resort – Supervisor of Year
Alva Wilbert Adderley, Cape Santa Maria Resort – Employee of Year
Ricardo Brown, Atlantis – Manager of Year
Adrian Edgecombe and Harvest Praise, Nassau – People's Choice (Gospel)
Dillon McKenzie (Da Gaulin Song), Nassau – People's Choice (Secular)
Copa Airlines – International Airline of the Year
Skip Allen Sr. – International Writer of the Year
Carnival Corporation – Cruise Line of the Year
Majestic Holidays – International Tour Operator of the Year