IAAF World Relays begins today…NO COWBELLS WILL BE ALLOWED BY BAHAMIAN FANS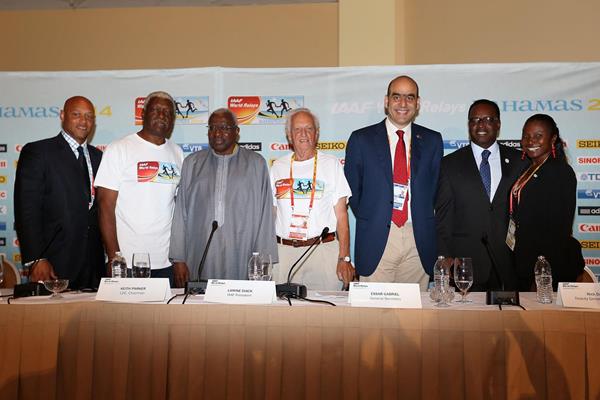 Security is high at WOrld Relays…
IAAF President Lamine Diack today called the inaugural IAAF World Relays, due to kick off tomorrow (Saturday) at Thomas Robinson Stadium in Nassau, The Bahamas, "the latest example of athletics' continuing evolution."
In the past 50 years, Diack said, athletics has seen the transition from amateurism to professionalism, the decline of international dual meetings and corresponding rise of invitationals, and the creation of the IAAF World Championships. Now the IAAF World Relays are ready to take a turn at centre stage.
"You're always asking when we will introduce new events," Diack said to the assembled media. "We looked for new event hosts and The Bahamas was ready. We were considering 2015, but the local organising committee said they were ready for 2014."
"There is $1.4 million (USD) in prize money on offer across 10 races," said President Diack, also highlighting the qualification of the top eight teams from each of the 4x100m relays and 4x400m relays to the 2015 IAAF World Championships to be held next year in Beijing.
President Diack also emphasised that both nights of competition are sold out.
"We are delighted that The Bahamas have stepped forward to be the inaugural hosts," Diack said. "Thanks to the Bahamian government, and thanks to Nassau."
Fielding questions from the press, Diack spoke to the absence of Usain Bolt, specifically to whether he felt Bolt had an obligation to promote the sport. "Certainly when you are in history, you have a role to play," Diack agreed. "It is the role of our top athletes to do this. But we have a full stadium – two days. We have a lot of athletes who will be competing, very good athletes, competing against each other. We can't focus on the one who is not there."
Local organising committee (LOC) chairman Keith Parker said: "I've been involved in athletics in The Bahamas for over 50 years, but never anything at this level. You will find a fantastic reception, and the stadium will be full."
LOC vice deputy chairman Mike Sands expressed his appreciation to the Bahamian sports ministry for their support. "We often say sports and politics don't mix, but don't underestimate the value of government support for this event."
IAAF General Secretary Essar Gabriel, who made several inspection visits in preparation for the event, was similarly positive about the event organisation. "The level of organisation has stepped up from CARIFTA to world class. It has been a spectacular transformation."
IAAF Council Member Pauline Davis-Thompson added to comments from Sands and Parker about Bahamas' relay tradition, saying: "It really started in 1984 when a Bahamian team first made the Olympic 4x100m final. It put the thought in our heads that The Bahamas could win relay medals. I think that contributed to the course which led to this event. Collectively, all of us who have run relays for The Bahamas, we have done it for our country, and for this moment."
Parker Morse for the IAAF