Who is Damian Blackburn, the new man at Cable Bahamas? And did he really leave the Haiti office?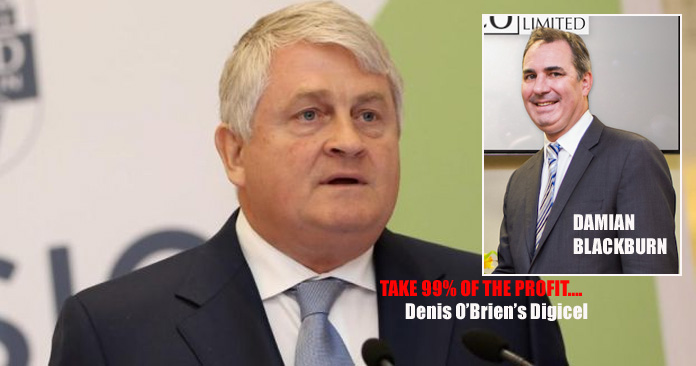 Stephen Curron and Damien Farren – two more new foreigners – hired at NEWCO while Bahamians wait for a call…. Bahamians need not apply!
Nassau, Bahamas – Everyone should be asking the question "who is Damian Blackburn?" – the man has walked into town to take over the management of Cable Bahamas' mobile sister company NewCO.
Blackburn was the first to be selected by Cable Bahamas before considering the application list of 800 talented Bahamians vying for jobs at the new company.
Since its failed attempt in the bidding process over a year ago, Digicel and its bad practices have hitched a ride through the backdoor of Cable while the Christie Government sits in silence. What does all this mean?
Little is known about Blackburn, but from our friends in Haiti all we are hearing is bad news. News like how the network there is deplorable and how workers always got the short end of the stick under his leadership. This is not good for the Cable workers who already cannot get their voices heard!
But get this, in our review of his departure from Haiti there was no celebration, no farewell, no nothing to mark his leaving there – which begs the question: is he still at the Digicel Haiti office?
One worker who sat under the new foreign taskmaster told us, "Welcome to modern oppression. If Cable Bahamas workers thought they were not having issues addressed and that the union was being busted and broken up, wait until the new man sits in the chair at the new mobile provider; they will wonder if they moved back in time because that is just what we have here in Haiti."
Before CBL won the bid for the 2nd license for Mobile (2015), there was an abundance of rumors and speculation about why Digicel 'gracefully' withdrew from the race prior to that event. This saga is becoming more exciting than any soap opera!
The plot thickened!
Then URCA slammed the hammer on CBL's overzealous cell tower installation, which led the public and private sectors alike to question their confidence! What did Cable know before a decision was made?
And so here's the heart of our story! Damian Blackburn was appointed as the new CEO for NewCo Limited. And, interestingly, days after that story, government permits were issued to welcome Stephen Curron and Damien Farren – two more Digicel executives – through the backdoor. Bahamians need not apply!
Isn't it interesting that all three of the new foreign hires, Blackburn, Curron and Farren, are all from Digicel? Makes you ask is NewCo really NewCo? Or is NewCo a subsidiary of Digicel?
How did the Christie Government make such a huge mistake like this to allow another crew take millions out of the Bahamas? And here's another question: How many work permits will NewCo get under the Christie Government while Bahamians sit home unemployed?
But, ya know, someone got paid…Follow da money! Stay Tuned!
We report yinner decide!