BP believes PM Minnis should have given Omar Archer a real big contract and not a desk job! But Brent Symonette would never agree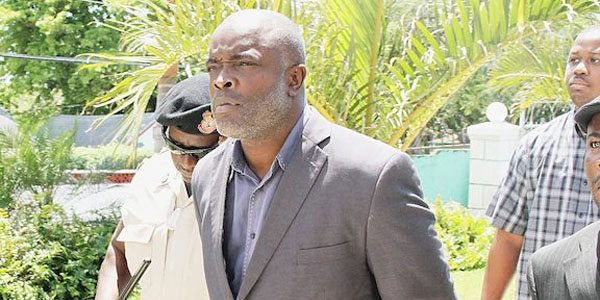 Nassau – Prime Minister Minnis came out swinging for new Contractors Registrar Omar Archer who has had multiple run-ins with the law, police and, most recently, a judge.
Archer was initially appointed as head of security at BAIC, but, after a few articles by Bahamas Press where we exposed his criminal record, Government had to find a new post for him.
PM Minnis told the press this week, "As for Omar Archer, isn't he a Bahamian like everyone else, is he not entitled to work, is he not entitled to eat, is he not entitled to sleep?" And, well, the Prime Minister is right.
But in rank hypocrisy, it was this same Minnis Administration who fired scores of workers from BAIC, WSC, BPL, Social Services, NIB and small domestic workers in the Department of Education, boasting that their contracts were up or they didn't report to work or that the government could not afford their employment.
In the case of BAIC, the Minnis Government terminated the services of a permanent and pensionable single mother who served the corporation for 15 years with a BA degree! That mother never once had ever seen the courthouse for a criminal offense – YET PM Minnis didn't see her as a Bahamian entitled to employment! What a time!
We must see this for what it is: This is a government that promotes criminals. It is behaving like criminals. And no one in the government can produce a clean police record for Omar Archer, who is now policing contractors! What a DISGRACE!
We ga say this to PM Minnis – If ya did really think something of Omar Archer – you would a give him one a them big $1.8 Million contracts and keep him out of the business of regulating law abiding citizens! In short, if you want to reward a political foot soldier, give OMAR something worthwhile.
We report yinner decide!