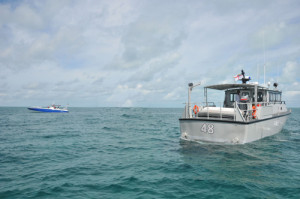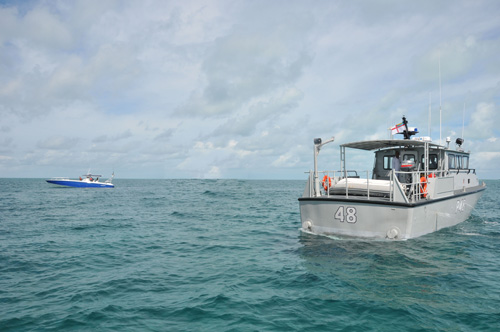 Coral Harbour Base (RBDF) – A Dominican fishing vessel was intercepted by Royal Bahamas Defence Force patrol craft, P-129, on Friday 17th July on the Great Bahama Bank southwest of Great Exuma. P-129 was later assisted by P-44.
Eighteen Dominicans were found on board the vessel by Defence Force marines. A search is being conducted by Defence Force aircraft and patrol craft for four Dominicans aboard two skiffs that were in company with the Dominican vessel but had fled the scene. An undetermined quantity of scale fish and crawfish was also found aboard the 100-foot, steel-hulled vessel.
HMBS Rolly Gray is currently escorting the vessel to New Providence where the vessel, crewmembers, and fisheries products will be turned over to the Department of Marine Resources, Police and Ministry of Finance officials for further investigations.
The Defence Force remains committed to guarding our heritage.