The new Sheriff in Education setting the road to 21st Century Education for All Bahamians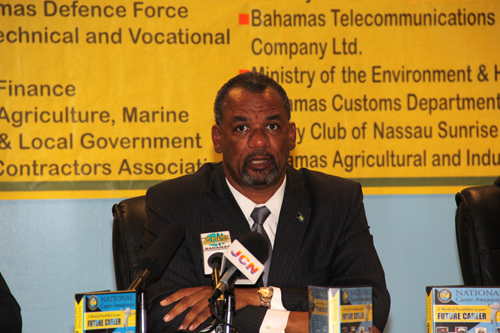 Nassau, The Bahamas – Students entering the work world now have a tool to assist them with becoming employable.
A public/private sector partnership between the Ministry of Education, Science and Technology and 24 industry stakeholders including civic and social entities has resulted in the first series of DVDs designed to prepare students for the local and global job market.
The Guidance Counselling Unit of the Special Services Section of the Department of Education in collaboration with National Career Awareness partners launched a series of DVDs on Wednesday, May 14, at the Ministry of Youth, Sports and Culture.
Darron Turnquest, Director of Youth, Keyshan Bastian, Assistant Director of Education, and other senior government officials attended the event. Representatives of various private organisations were also present. Among those giving remarks were: Arnold Dorsette, Deputy Director of Bahamas Agricultural and Industrial Corporation; Leonard Sands of the Bahamian Contractors Association; and Dudley Martinborough, Coordinator of Bahamas Maritime Cadet Corp.
Entitled "A World of Possibilities" 13 of the 15 DVDs focus on Career Clusters and two on College Readiness. The Career Cluster DVDs provide information on: Specific careers within that cluster, required skills needed, qualification levels, pathways to specific careers and suitable personalities for best fit. The DVDs include information on: Choosing Your Best Career, Business and Entrepreneurship, Financial Services, Maritime Studies, Hotel and Tourism Studies, Design and Construction, Agriculture and Fisheries, Education and Collaborative Services, The Royal Bahamas Police Force, The Royal Bahamas Defence Force, The Visual and Performing Arts, Communications and Technology, Health and Science, Local Colleges and Scholarships.
Jerome Fitzgerald, Minister of Education, Science and Technology said the primary goal of the DVDs is information dissemination for empowerment. "Empowerment of students, teachers, parents and stakeholders who will have at hand a cadre of career options and opportunities to assist with their respective decision making processes relative to potential employment," said the Minister.
He explained that the initiative is in keeping with a mandate by the Government to ensure that a career path exists for high school students and that their interests are able to be matched with their career choices.
"The DVDs fall in line with a lot of initiatives we have launched in the past two years and set the foundation for some of the academic improvements we wish to see," Mr. Fitzgerald said.
The series will be distributed to all government schools in New Providence and the Family Islands during the school year 2014-2015. Copies will be available to private schools on request.