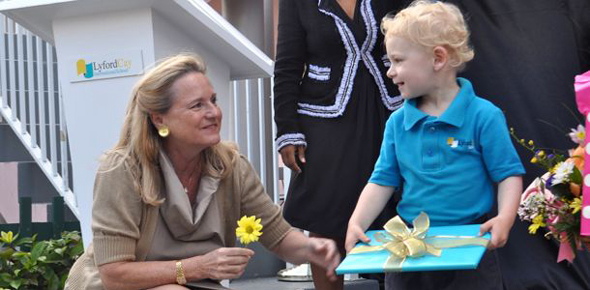 By Gillian Watson, LCIS
Nassau, Bahamas – Lyford Cay International School (LCIS) marked the beginning of its 50th anniversary celebrations with a Founders Day Assembly honoring their founder E.P.Taylor, on January 31, 2012.
"We have put a lot of work into the celebration of our 50th year," said Stacey Bobo, Principal at LCIS. "It seemed fitting to start at the beginning with our founder E.P.Taylor. We wanted to learn as much about him as possible and we wanted to be sure that our students understood that Taylor really was a visionary and that we, as a school, are here because of him."
E.P.Taylor, the original developer behind Lyford Cay, founded the Lyford Cay School in 1962 to provide a good education to the children of his staff. The school opened its doors with nine students and two teachers and today, 50 years later, has a student enrollment of 345 students with a faculty of more than 70.
The Founder's Day service honored past alumni and brought the exciting story of E.P.Taylor's life to everyone gathered. " We learned as much as we could about E.P.Taylor, through contacts with his family members, friends and those who know him in the Lyford Cay Community. We read his biography by Richard Rohmer, interviewed people who knew him or worked for him and spoke to his family members," said Mrs. Rebecca Massey, Development Coordinator who is responsible for the 50th Anniversary.  "And once we felt as if we knew him, one of our staff members, Amy Lupu, wrote a play about his life. Our music department put that play to music and our students were able to learn about an amazing man in a unique way." Through that play students, parents and alumni learned about Taylor's unstoppable work ethic, his risk taking and, above all, his vision. It was Taylor's foresight that transformed Lyford Cay from a swamp into a thriving community complete with a school and a church.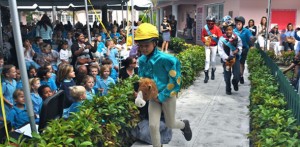 Taylor found success at almost every turn in his life. He was the owner of Windfields Farms, responsible for producing some of the elite racehorses of his time including Northern Dancer, winner of the 1964 Kentucky Derby and the most successful sire in racing horse history. In fact the school uniforms at LCIS are modeled after the gold and turquoise worn by his jockeys at Windfields. Attendees at the assembly were reminded of that connection as LCIS students recreated Northern Dancer's Kentucky Derby win complete with Hobby Horses, original commentary of the race and one lucky student wearing the original Windfields racing silks. " We have established a great relationship with Taylor's family," said Mrs. Massey. "We were so honored that his family agreed to lend us the racing silks as part of our celebration this year."
LCIS also celebrated the Alumni of their school with special focus on one of the original members of the 1962 class, Mrs. Patricia Leonard. Mrs. Leonard later visited the Grade 1 students at LCIS to talk to them about the differences between attending LCIS in 1962 and 2012.  "We receive an amazing amount of support from our alumni," Mrs. Massey commented. "We are in contact with many alumni and we keep them informed about goings on within the school," she said. "And with this being our 50th year we are reaching out even more."  There are presently ten alumni parents of current students at LCIS. "It is wonderful to see alumni bring their children to LCIS and that they are so eager to become involved with the school," said Mrs. Massey. "At LCIS we really are a large family."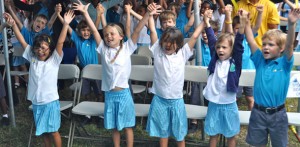 LCIS has come a long way since 1962. The school has been transformed from a small, community school to an education facility accredited by the Council of International Schools, the New England Association of Schools and Colleges, and authorized by the International Baccalaureate  (IB) Organization to teach the Diploma Years Program, Middle Years Program and the Primary Years Program.  LCIS is one of only 185 schools from around the world authorized to offer all three IB curriculum frameworks.
While managing its growth, both educationally and in size, LCIS remains a community resource and family friendly school.  The student body is diverse, representing approximately 24 different countries (40% of the students are Bahamian). The school, also, benefits from an experienced and diverse teaching and administrative staff.  LCIS endeavors to create an atmosphere in which understanding of our world amongst diverse nationalities can be achieved. Our students are provided the opportunities and resources to become cross-cultural and life long learners, and internationally minded citizens. It has developed into a school that E.P.Taylor would have been proud to have started.
Lyford Cay International School (LCIS) is one of less than 200 schools worldwide that is a fully accredited International Baccalaureate (IB) school. The aim of all IB programs is to develop internationally minded people who, recognizing their common humanity and shared guardianship of the planet, help to create a better and more peaceful world.  For more information on LCIS please visit www.lcis.bs