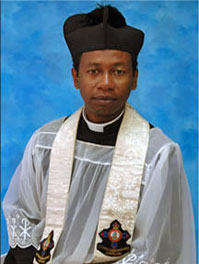 Nassau, Bahamas — Breaking News coming into Bahamas Press sends shock waves through our organization. BP, who is sitting in the Topaz Lounge at this hour sipping on some warm spirits, could hear the rumbling upstairs in the Prince Hall Lodge chambers on the top of the Hill of Blue Hill Road.
Shortly after noon today, members of the leadership of the fraternity expelled Rev. Fr. Stephen Davis following a dangerous witch-hunt inside the Lodge.
BP can confirm Fr. Davies received his expulsion letter little around 12:30 PM from an agent of the Grand Master, who sources tell us, is becoming more and more 'vicked' by the hour.
Carl Culmer has suspended more than 7 FNMs out of the organization for what he alleges to be for SWEETHEARTING in the organization. Amazingly, while the 'sweethearters' are being suspended, the BIGTIME KNOWN SISSIES are walking around on their toes getting a pass. When can a Grand Master decide who can and cannot be in a lodge member's bed? WHAT THE HELL IS THIS? WHAT KIND A SOCIETY IS THIS?
Once source tell us, a KNOWN SISSY wanted by the Americans for fraud, "knows all the business of the Prince Hall organization, before we the members know. That KNOWN SISSY also knows who was to get expelled before we did." WHAT A DAMN SHAME!
Bahamas Press calls on members to break up the organization before further damage and disdain befall the Nassau autonomous organization.
Where is Orthland Bodie in all this; isn't he said to be a BIGTIME Mason? MUMs the WORD! We wonder if this is his organization now in the news and if so, why is he so quiet to the topic?
BP has GRAND RANK from SCOTLAND! SO MOTE IT BE!