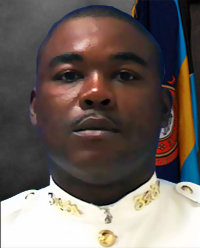 Full Military Funeral Service for the late Police Constable #3431 Garvin Gerard Green Demeritte will be held on Friday, 4th July, 2014 at 11:00am at the Pro-Cathedral of CHrist the King on East Atlantic Drive and Pioneer's Way, Freeport, Grand Bahama.
Officiating will be Fr. Stephen Davies, assited by archdeacon Harry Bain and interment will follow in the Grand Bahama Memorial Park #2, Frobisher Drive.
On Thursday 4th July, 2014, the body will repose at the foyer of the Gerald Bartlett Police Headquarters on Mall Drive from 12noon until 6:00pm by government officials, police officers and member of the public.