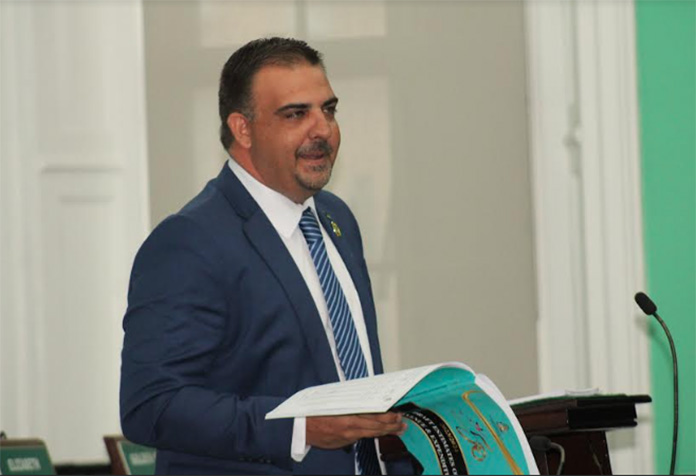 NASSAU, The Bahamas — Minister of Agriculture, Marine Resources and Family Island Affairs, the Hon. Clay Sweeting said that in addition to improvements to roads and the building of new homes in Eleuthera, other projects are scheduled to enhance the island. During his contribution to the 2023/2024 budget debate on Monday, 12th June, the Minister said that although it appeared that successive governments had forgotten the island, the government is committed to bringing some projects to fruition.
"Central & South Eleuthera have come a mighty long way," said Mr. Sweeting. "From years of successive promises and unrealized visions of previous administrations. However, I take this time to declare that as the Bible says: there is nothing before its time and that there is a time for everything and a season for every activity under the sun. We were destined to accomplish these goals together, and I am forever grateful when I can see the positive impact of this administration on the lives of family islanders. Real, tangible accomplishments that will change the socio-economic trajectory of Eleuthera."The Minister said that the Ministry has been partnering with the Bahamas National Trust through BAIC and the Office of The Attorney General for just under two years to ensure the vision for the development of a National Seahorse Park at Sweeting's Pond is finally realized. "Many do not know that this site is home to the most abundant species of Seahorses and the most diverse species. This site will serve as a major attraction for its natural biodiversity and it will bring foreigners and residents together in a cultural atmosphere, highlighting a wide array of locally grown produce on the island of Eleuthera. The National Seahorse Park at Sweeting's Pond will complement a long list of natural attractions on Eleuthera that adds to the uniqueness of the island such as The Glass Window Bridge, The Queen's Bath, The Leon Levy Preserve, Ocean Hole and many other natural attractions that offers travelers a unique island experience on Eleuthera."
He said that during this upcoming summer, he and his team would be spending a 'considerable' amount of time in Eleuthera, to officially open various completed projects.
"Not breaking ground as has been customary, but ribbon-cutting as we have worked tirelessly over these last two years to bring much needed improvement and opportunities for entrepreneurs on the Island of Eleuthera and these initiatives will be launched and opened for business," he said "Eleuthera, the time has come to improve our way of life. As developments are choosing Eleuthera as its hub there are so many facets of our community where we must have a decisive plan for improvements. Eleuthera has a bucket list of issues that need fixing. While there are things outstanding that I cannot bring relief to, I can correct some wrongs and I have been working assiduously to bring innovation to and progress to Central & South Eleuthera."
The Minister said plans are also underway to improve the island's healthcare offerings and facilities. "I am happy to say that we are one step closer to realizing this great initiative that has spanned administrations. We expect to build not one, but two fully functional, state of the art, medical centers in Palmetto Point and in Rock Sound. Both townships have already reviewed and approved the plans and have sent them back to New Providence for completion."
He said that the government is also making progress in education. "I take this time to elaborate on the progressive initiatives that have been made in Central and South Eleuthera. For a long time, our students would have had to leave Eleuthera to have access to education after high school. Thanks to the Pandemic, distance learning is commonplace, and many students and adult learners have access to education," he said. "Additionally, for a long time, Eleuthera has lacked an availability of men and women with basic skills that are needed on a daily basis. Trained electricians, plumbers, ac/refrigeration technicians, the plain ole handyman. We do have a lot of qualified individuals, however, there are too few of them and their services are always in demand. So, most homeowners have to wait days, sometimes weeks to get on the calendar to have simple things fixed."
The government, he said, plans to address this need in the following way: "I am pleased to report that a facility to house the Bahamas Technical and Vocational Institute is almost 100% completed. Ahead of the building completion, the first cohort of students in the electrical program is already in the classroom and taking advantage of this wonderful opportunity. I want to thank my colleague and member for Englerston, the Hon. Glenys Hanna-Martin and Minister of State for Education, Zane Lightbourne and their team and Team of Board of Directors and Management at BTVI and our corporate partners for their relentless efforts to expand the institution to the Family Islands."
Mr. Sweeting also spoke about the 'Starting Line' project, an initiative he has personally sponsored. "This is the 4th year I have sponsored the Starting Line, an initiative that gives students and adult learners the opportunity to sign up for national exams and get focused tutoring for four months just prior to the sitting of these exams" he said. "A lot of our community members who are fully employed graduated pre-pandemic and the opportunity to enroll in distance learning was out of their reach because for some reason or the other they didn't have the requisite amount of BJC or BGCSE. The Starting Line fills this gap, and we are happy to say that to date 780 students in Central and South Eleuthera and across The Bahamas have enrolled and sat national exams more prepared than ever to achieve their personal goals." (BIS Photo/Ulric Woodside)