Prime Minister announces major social initiatives for Family Islands in Budget 2013/14 Communication
NASSAU, Bahamas — Prime Minister the Rt. Hon. Perry G. Christie said the performance of Recurrent Revenues in 2012/13 was not as robust as had been expected at the time of the last Budget because of weaker than projected growth of nominal GDP.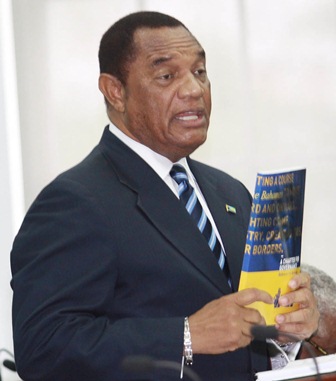 "That weakness has persisted and we now expect Recurrent Revenues this year to come in at $1,380 million, down by 11 per cent or $170 million from the $1,550 million Budget projection, " the Prime Minister said as he presented the 2013/14 Budget Communication in the House of Assembly, Wednesday, May 29, 2013.
He said on the basis of that weakness, the Government implemented a number of near-term internal adjustments to ensure it meets the Budget GFS Deficit target of 6.5 per cent of GDP in 2012/13.
"Through those measures, we would have succeeded in containing Recurrent Expenditure in 2012/13 to an estimated level of $1,659 million, down by $162 million from last year's Budget projection.
"Capital Expenditure should end up in the region of $350 million, down by $50 million from the Budget estimate.
"With these adjustments, the GFS Deficit this fiscal year should approximate 6.1 per cent of GDP, slightly below the Budget forecast of 6.5 per cent."
Fiscal Policy 2013/14 and Beyond
Prime Minister Christie said in the 2013/14 fiscal year, Recurrent Expenditure is being held to a level of $1,737 million, just below the level set out in the Mid-Year Statement.
"Likewise, Capital Expenditure next year will be contained to a level of $295 million, not significantly changed from the $300 million projected in February."
He said in this context, the Government expects investment in public infrastructure to be bolstered in the period ahead by public- private part.
The Prime Minister added that the Government will engage in roadwork projects across the Family Islands in the coming year including, in particular, Abaco, Andros, Acklins as well as others.
He also noted that Recurrent Revenues in 2013/14 will be enhanced by the ongoing, projected modest growth of nominal GDP.
"They will also be bolstered by the various revenue adjustment and enhancement measures that I have announced in this Communication.
"On the basis of the measures that I have outlined, Recurrent Revenues in 2013/14 are now projected at $1,503 million, still leaving a gap from the forecast of $1,580 million that I set out in February."
Prime Minister Christie said as it stands, the GFS Deficit next year will reach $443 million or 5.1 per cent of GDP, as compared to the estimated outcome of 6.1 per cent of GDP this year.
"The central components of the medium-term plan, in respect of Recurrent and Capital Expenditure and Recurrent Revenue, will continue to engage beyond 2013/14.
"As I stated in the Mid-Year Budget Statement, we will continue to exert discipline on Recurrent and Capital Expenditure such that the levels of both continue to decline as a proportion of GDP.
He said "As for Recurrent Revenue, the tax reform package that we announced in the February White Paper, as well as the ongoing structural enhancements to revenue administration that I reviewed earlier, will contribute to a significant improvement in the revenue yield of our tax system to a level more in line with norms in the region."
The Prime Minister said as a consequence and barring unforeseen developments, the Government expects to be able to adhere to the fiscal objectives of our medium-term plan, namely:
Both the Deficit on Recurrent Account and the GFS Deficit will be eradicated by 2015/16;
The Primary Deficit will be eliminated by 2014/15 and that is critical to reversing the upward trend in the debt to GDP ratio;
Government Debt will return to a level in the area of 50 per cent of GDP by 2016/17, as opposed to a level approaching 70 per cent in the absence of our decisive action plan to redress the public finances.
——–END———
Commonwealth Of The Bahamas
2013/14
Budget Communication
Presented To The Honourable House Of Assembly
By
The Rt. Hon. Perry G. Christie, M.P.
Minister Of Finance
On
Wednesday, 29th May, 2013
2013/14 Budget Communication
BUDGET_COMMUNICATION_290513_Combined_PDF
It is my honour to present the 2013/14 Budget
Communication.
INTRODUCTION
Honourable Members will be aware that Mr. Ehurd Cunningham, former Acting Financial Secretary, passed away last weekend. I want to take this opportunity to express my personal gratitude and that of the Nation for the many years of dedicated and tireless service that he so warmly provided to his dearly beloved country. Mr. Cunningham was instrumental in initiating, and indeed championed, many of the fundamental and much-needed reforms to Government on which we are presently embarked. His memory will live on in the enhanced economy and society that will emerge from our efforts.
Mr. Speaker, this is a pivotal Budget in the history of our small nation. It is a Budget that secures the future for all Bahamians. The economy has clearly turned the corner and we can anticipate steady, ongoing growth and employment creation in the period ahead. I would reiterate, at this time, my abiding optimism for the future, in the areas of employment and entrepreneurship, with the completion of the tourism plant of Atlantis and Baha Mar in New Providence, as well as developments underway or in the pipeline in Bimini, Grand Bahama, Exuma, San Salvador, Abaco, Eleuthera and Cat Island, among others.
In this Budget, my Government is acting decisively to improve the health of the public finances and to pull us out of the debilitating public debt spiral that we inherited upon coming to office. We are also strengthening the foundations of the economy to secure steady growth and private sector employment creation. In this way, we are positioning my Government to have the resources with which to implement, over the full course of our mandate, initiatives that will strengthen law and order, promote stronger growth and job creation and solidify our firm commitment to maintaining and reforming our social safety net for the effective delivery of relief to the disadvantaged and needy in our midst.
Honourable Members will recall that, in the Mid-Year Budget Statement that I presented in February of this year, I laid out the critical fiscal policy challenges that confront my Government and I presented an action plan, over both the near-term and the medium-term, to restore our public finances to a more desirable and sustainable position.
This Communication follows up on the commitment that I made at that time to provide a more detailed elaboration of the comprehensive reforms and policy actions in respect of both expenditure and revenue that will secure our overriding fiscal consolidation objectives.
Let there be no misconception about our commitment to healthier public finances. We have pledged to the Bahamian people an ambitious and targeted programme of fundamental change to bring about better economic and social outcomes for all. We will fulfill that pledge.
Notwithstanding our improved growth prospects, as I explained at length in the Mid-Year Statement, we find ourselves at present severely constrained in our ability to fully implement our change agenda. The fiscal mismanagement of which I spoke in the Mid-Year Statement has left the resources of Government stretched too thin. We must of necessity be more cost efficient in our operations and aggressively seek to enhance revenue performance. The legacy of high public deficits and spiraling debt burden that we inherited is brutally onerous: almost one out of every four dollars in revenue collected by the Government must be allocated to pay the interest charges on the public debt and cover the debt repayment. Had we chosen to ignore the grave structural imbalance in the public finances, the debt would have continued to spin out of
control…
Full version of Commonwealth Of The Bahamas 2013/14 Budget Communication attached below:
BUDGET_COMMUNICATION_290513_Combined_PDF