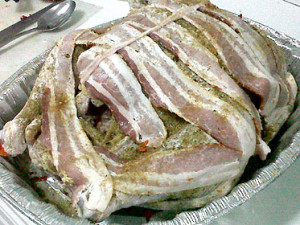 UPDATE 5 AT Dec. 24th 8:00PM:
Now let's sprinkle season salt/black pepper and garlic along with poultry seasoning on the turkey. Blanket the turkey with that poultry seasoning. Also sprinkle some sugar lightly on top of all that. You also want to cover the Turkey with strips of bacon. And the seasoning is DONE! Wrap tight and slip that bird to the bottom of your fridge.
UPDATE 4 AT Dec. 24th 6:10PM:
Now it is time to season the turkey. First we want you to chop up about 8 red hot peppers. When you are done rub that all through the turkey as if you are giving it a massage.
At the same time you want to chop up about 4 cubes of garlic and be ready to do the same. You want to chop those up fine. !!!WARNING!! FOR GOODNESS SAKE DO NOT RUB YA EYES!
Now all junior chiefs should know, when you cut up all them peppers your sinuses may kick it. BE CLEAR TO REMOVE YOURSELVES from the kitchen if your allergies kick in. SNEEZING IS NOT PART OF THE SEASONING! !!!WARNING!! FOR GOODNESS SAKE DO NOT RUB YA EYES!
UPDATE AT Dec. 24th 5:15PM:
Well it is time to begin seasoning the bird with those gizzards. FRESH sour, season all and red hot peppers.
BP is doing that now. Take the bird out of the deep basin your brine is done.
By now its should be white with all the salt water and vinegar through it.We will first season the gizzard/neck and liver in a bowl. Fresh squeezed limes/season all/red hot peppers/ and poultry season all over that. [Don't forget Church tonight the first MASS of Christmas]!
Now, when that is done let's that sit in your sink for further instructions. CUT another piece of that fruit cake and pour some glasses of Ricardo rum to wash it down…BP will be back in less than :45 min to give further instructions on the cooking of the BP Turkey….
UPDATE AT Dec. 24th 12:15PM:
ADDITIONALLY PEOPLE WE NEED THE INGREDIENTS.
You want to make sure you go to CITY MARKETS and pickup the following if you don't have them as yet:
1) Onions
2) BUTTER
3) Bacons A PACK A MUST******
4) red peppers
5) A pack of dried stuffing
6) Fresh Limes about [6] and A Bottle of Lime Juice
7) POULTRY SEASONING *** A MUST HAVE****


Celery
9) Green Peppers
10) Season ALL
11) A pack of Chicken Gizzard
12) Foil Paper – HEAVY FOIL
13) A DEEP BAKING PAN or Turkey Pan
*** At this hour BP wants you to put in the water of your soaking turkey a bottle of WHITE vinegar…
UPDATE AT Dec. 23rd 1:26am:
The BIG BIRD has arrived at the BP compound. It is 1:29AM and we will walk the nation through the process of preparing a turkey this holiday.
Follow our tips and everyone will be happy. You will need plenty items. At this hour the bird sits in a deep basin filled with salt water. The bird is to defrost in the basin for the next 12 hours. FOLLOW the thread as we help you ready a splendid turkey…