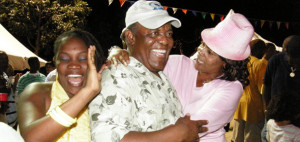 Abcao, Bahamas – In 2003 Local Government Minister V. Alfred Gray discontinued a contract previously granted by the FNM to a crawfisherman and boat builder for the duties of Family Island Administrator. Then South Abaco MP Robert Sweeting slammed the Christie Administration for being a careless and victimizing government. Since the FNM re-gained power in 2007, Mr. Benjamin Pinder has been re- appointed Family Island Administrator for South Abaco and has been promoted to the post of Deputy Administrator. Not possessing the academic criterion for the Administrator position, Pinder is a respected religious figure in the Anglican diocese holding the rank of cathechist and also a long term friend of Hubert Alexander Ingraham. We are advised that their friendship goes back to their operator days as former employees of BTC.
We can assure you that when it comes to the FNM they protect their own.
The murder of Cely Smith Sr. 45,  one of the country's latest homicides has a dose of political royalty attached, we are being advised that investigators and the media are a bit hesitant to place too much public emphasis on this one. WE HERE AT BP WILL BE WATCHING TO SEE WHAT ATTENTION WILL BE GIVEN TO THIS CASE.
It was your BP who first broked the story about the riot that had broken out at the Abaco Central High School between the Haitians and the Bahamians and that the Haitians were in possession of a very large cache of weapons being hid in the mud by hit man Bartholomew "Bin Ladin" Pinder. " Bin Ladin" is the son of Ingraham's friend, Deputy Administrator Benjamin Alexander Pinder.
See article below from 2003 . Robert Swweting slams PLP for discontinuing Pinder's contract.
____________________________________________________________
SWEETING SLAMS VICTIMISATION     2003
The Tribune, largest newspaper in The Bahamas, carried the headline "Sweeting Slams Victimisation" in its 2nd May issue. In parliament, South Abaco MP Robert Sweeting accused local government minister V Alfred Gray of ending South Abaco administrator Benjamin Pinder's contract without giving him sufficient notice.
Benjamin Pinder had been appointed by previous prime minister Hubert Ingraham to perform a special task: administer a small district that did not justify a full time professional administrator. Benjamin Pinder was chosen because of his integrity. Everyone in his district knew him to be incorruptible.
Minister Gray had approached Benjamin Pinder at the end of his contract and asked him whether he wanted his contract renewed. According to Minister Gray, Mr Pinder demurred. Asked if he would stay on until a replacement was found, Mr Pinder agreed. "I said that before his contract formally expired and he left office in April 2003, I wanted him to assist me. I felt he was my friend and I wanted to assist him if he could assist me. I asked him is he would hold on. I don't do foolish things knowingly. I want the member for South Abaco to know that I have good reason to do the things I do," said Minister Gray.
MP Robert Sweeting replied that everybody knew that Benjamin Pinder was a man who would not want to be a "kiss up to anybody", but that Mr Pinder's life had been considerably disrupted. A crawfisherman and boat builder, Mr Pinder had to completely change his way of life and even his residence to fulfil government duties. He would certainly have earned more money in the fishing and boat buiding industry that in government during the time he served.
The Tribune followed up with an editorial on 5th May titled "No Way to do Business". In the editorial it was pointed out that Mr Pinder was chosen by Hubert Ingraham because "he was honest, he was fair, and he was respected by his community". Mr Pinder reluctantly signed a three year contract.
On 1st October 2002 Mr Pinder received a call from the Local Government permanent secretary informing him his contract would expire on 11th October. Benjamin Pinder and his wife Virginia vacated the government residence and were in their own home by 10th October.
A call from the permanent secretary asked Benjamin Pinder to stay on until 31st March, to which Mr Pinder agreed. On 25th March Mr Pinder received a call from Mr Jolton Johnson on Eleuthera that he would be arriving on Abaco to replace Mr Pinder. He asked that Mr Pinder pick him up from the airport and arrange accommodations for him.
A fax came in later on to say that Mr Johnson was to take over Mr Pinder's post by 31st March.
The Tribune editorial ended with: "To this date Benny Pinder, South Abaco administrator until 31st March, is yet to receive any direct communication from Mr Gray or his ministry. In his opinion, this is not the civil way to do business."