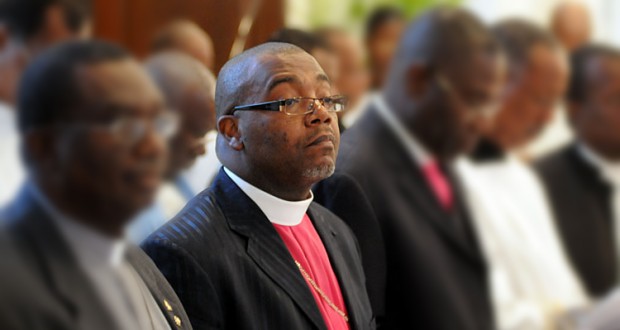 By Pastor Ray Johnson
As our nation celebrated Independence Day commonly known as "The 4th of July" the Full Gospel Baptist Church Fellowship celebrated 20 years of existence as a new denominational gathering of believers. The fellowship, led and founded by Bishop Paul Morton, is a gathering of independent Baptist who embrace the fullness and work of the Holy Spirit in the life of the believer. Yes, Independent Baptist, who speak in other tongues as the Spirit gives them utterance.
A year or two ago as the movement began to prepare for its 20th inauguration Bishop Morton came to terms with passing the mantle of leadership as its Presiding International Bishop. However, unlike most organizations of its stature, Bishop Morton set out to invoke a biblical paradigm as seen in the book of Acts. The Catholic and Protestant church for years have made a mess of leadership transitions. The atypical divisions and schisms of group dynamics in popularity and control seem to dominate the process. As the democratic model of electoral politics continues to invade the church, it shows that even as believers we can be subject and driven by personality led mantra's and campaigns. However, not so with Full Gospel Baptist Church Fellowship or did we continue to see the same spirit of independence?
Our nation has wrongly interpreted our freedom from tyranny of England's state controlled church here in the west. Our liberty and freedom has many believing we are free to do what we want, when we want and how we want. We are free to pursue our dreams at all cost free and independent from anyone or anybody. This "SPIRIT" has so permeated our land and the church that as Christians we must remember WE are not independent. We were not designed to be independent. As believers we will always be co-dependent or interdependent on and with God. We will always need others, need God, need order and direction from someone or somewhere other than ourselves. As I watched the commemoration of Full Gospels Celebration I was amazed and awed by the humility and grace exhibited by Bishop Neil Ellis. His choice to remove his name from the ballot of selection as the next presiding international bishop speaks of his desire to be interdependent with God and people. It was more important to Bishop Ellis to preserve unity and unanimity something that has been lost in the individual believer and body of Christ corporately.
The Full Gospel Baptist Church Fellowship employed a book of Acts Jerusalem council approach found in Acts 15:28, "… It seem good to the Holy Spirit and us…..". Bishop Ellis chose what I believe to be the desire of the Holy Spirit in all of the body of Christ and that is to preserve unity. We must remember there really is only one faith one Lord and one baptism. And in so doing we must also be critical and concrete in our learning from Full Gospel. It wasn't that Bishop Neil Ellis wasn't God's choice or the Choice of Bishop Morton, but in an effort to preserve unity and the unanimity of the fellowship this was a cross he chose to bear. So then what does that say about the resignation of Bishop McClendon who by his own words is choosing only to serve the man and stay through the transition and what about the other factions threating to pull out if their choice of person wasn't selected as the new presiding Bishop? In my view it shows that we all like Bishop Neil Ellis must strive for the biblical ethic of the cross. Bishop Ellis exemplifies Galatians 2:20, "I have been crucified with Christ; it is no longer I who live, but Christ lives in me; and the life which I now live in the flesh I live by faith in the Son of God, who loved me and gave Himself for me. As evidence of his sacrifice in choosing not to chase a title Bishop Neil Ellis is teaching us about what's really important, serving people, as our savior served humanity. Jesus reminded his detractors who referred to him as a King of the Jews in Mark 10:45 saying, "For even the Son of Man did not come to be served, but to serve, and to give His life a ransom for many." Bishop Neil Ellis as Jesus reminds us about the greatness of leadership in Matthew 23:11, as Jesus says, "He who is greatest among you shall be your servant."
Bishop Neil Ellis like so many great leaders and clergymen before him teach us the value of humility, grace and self-sacrifice. In a world of selfish ideals of "you gotta get yours and I gotta get mine" Bishop Ellis reminds us the idea whole is greater than the sum of its parts. Onward Full Gospel keeping modeling, teaching and leading that we are better together when we are led by the Spirit that we might become the sons and daughters of God.