CONCACAF links to Webb's ex-employer Fidelity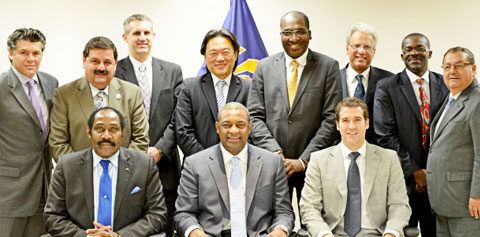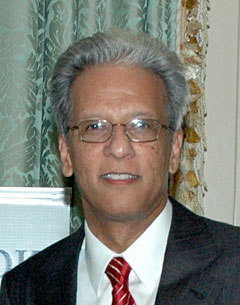 By: Michael Klein | mklein@pinnaclemedialtd.com
Anwer Sunderji, chairman and chief executive of Fidelity Group, was a member of CONCACAF's finance committee when bribe payments to the regional football association president Jeff Webb were allegedly routed through Fidelity Bank in Cayman.
The finance committee was formed at the behest of Webb in December 2012 to focus on monitoring and oversight of the confederation's financial management.
Last week, U.S. authorities brought corruption and racketeering charges against Webb and other FIFA officials and sports marketers related to millions of dollars of bribe and kickback payments for football marketing rights.
The indictment alleges that in November and December 2012, three bribe payments, totaling US$1.5 million, were wired to accounts controlled by Webb associate Costas Takkas at Fidelity Bank in Cayman.
Mr. Sunderji said Wednesday that he was invited to join CONCACAF's finance committee by Webb, who he said was looking to "beef up" governance and compliance related issues on the committee. "I was involved in the review of the draft financials for 2012 and the recommendation that they be approved by the Executive Committee of CONCACAF."
Mr. Sunderji said he left about a year later "due to pressure of my work and my inability to attend Finance Committee meetings on a regular basis and at short notice." He has had no connection with CONCACAF since his resignation, Mr. Sunderji added.
The football confederation's finance committee continues to be chaired by Horace Burrell, president of the Jamaica Football Federation and Webb's business partner in The Captain's Bakery in Cayman.
Other members of the committee at the time included Webb associate Canover Watson, who was arrested in 2014 on unrelated corruption charges, and Eduardo Li, former president of Costa Rica's football association and one of 14 defendants in the U.S. corruption probe.
According to the biography on his personal LinkedIn account, Webb worked at Fidelity Bank in Cayman for 22 years from 1990 until April 2012, when he was elected CONCACAF president. As business development manager at the bank he had "an extensive career in developing, managing and directing wealth management, investment banking, corporate finance and risk management, providing leadership and advisement on multiple committees," Webb's online profile states
"I know Jeff [Webb] as a former employee and more recently as a young man with great potential," Mr. Sunderji said. "He was the 'anointed' successor to Blatter and had a very bright future ahead of him. He carried the nation's flag very well and his arrest will be a loss to the country."
The U.S. indictment alleges Webb asked for and in most cases received millions of dollars in bribes in exchange for the award of marketing rights related to CONCACAF Gold Cup and CONMEBOL/CONCACAF Copa America Centenario tournaments, CONCACAF Champions League matches and Caribbean Football Union World Cup qualifiers.
In one case, Webb's attaché Costas Takkas allegedly solicited a $3 million bribe on behalf of Webb in exchange for the CONCACAF president's agreement to cause a contract assigning the marketing rights for Caribbean Football Union World Cup qualification matches to be awarded to sports marketing company Traffic USA.
According to the indictment, part of the bribe was transferred on Nov. 13, 2012 from Traffic International's account at Delta National Bank & Trust Co. in Miami, Florida, to a correspondent account at HSBC bank in Buffalo, New York, for credit to an account held by a front company at HSBC in Hong Kong.
One week later, on Nov. 21, the front company wired two payments of $750,000 and $250,000 through a correspondent account at Standard Chartered Bank in New York, to an account held by Kosson Ventures, a company controlled by Takkas, at Fidelity Bank in Cayman.
Another $500,000 was paid by Traffic through the account of a business associate of Traffic Group owner Jose Hawilla to "another account controlled by the defendant Costas Takkas at Fidelity Bank in the Cayman Islands," the indictment said.
The writ claims that Takkas subsequently wired a portion to an account in his name at Citibank in Miami and from there transferred the funds to an account at United Community Bank in Blairsville, Georgia, in the name of a swimming pool builder who did work at Webb's home in Loganville, Georgia.
Takkas allegedly transferred another portion of the funds directly from his Kosson Ventures account at Fidelity Bank in the Cayman Islands to SunTrust Bank in Georgia for Webb's benefit in connection with Webb's purchase of other real estate in Stone Mountain, Georgia.
_______
The CONCACAF Finance Committee when it was formed in December 2012.
BP NOTES: Anwer Sunderji lives in Lyford Cay, Bahamas! He runs the bank in the Bahamas too.