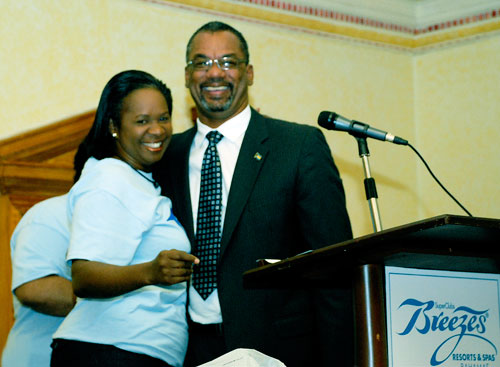 Nassau, Bahamas – President of the Bahamas Union of Teachers, Mrs. Belinda Wilson and Minister of Education, Science and Technology at the BUT shop steward workshop held on Friday, Nov. 1, 2013. Minister of Education, Science and Technology, Jerome Fitzgerald, addressed Bahamas Union of Teachers shop stewards from New Providence, Grand Bahama and the Family Islands during a one-day workshop at Superclub Breezes. Minister Fitzgerald told the approximately 100 union officers that their theme, 'Making Sense of Change…Energising Leadership" is both timely and appropriate because we are living in a rapidly changing world and, these changes impact the educational system in The Bahamas.
The Minister reminded the teaching professionals of a popular description of a leader which states that "a great leader inspires people to have confidence in themselves. The challenge of leadership is to be strong but not rude; kind but not weak and bold but not a bully."
He told them that they are all leaders and leadership comes with great responsibility. "This responsibility is tied to the fact that the success of our nation is inextricably tied to the success and quality of our public school system," Minister Fitzgerald stated.
He told the BUT leaders that the first step in dealing with change is to make sense of it and applauded them for engaging Dr. Michael Gaffley, Programme Professor at Nova Southeastern University and an expert on the concept of change, to assist them in understanding the nature of change.
Minister Fitzgerald noted that the Ministry of Education, Science and Technology is committed to the ongoing professional development of teachers and educational personnel and is eagerly preparing for the opening of the Professional Development Institute on location at the former Mabel Walker Primary School. He acknowledged that the BUT president, Mrs. Belinda Wilson planted the seed [idea] in his ear for the institute. He further stated that he was not ashamed to say it and that he does not care whose idea it was or who takes credits. "If it makes sense, I want it done," he said.
The Minister also indicated that in the future the union will not have to rent facilities to host training seminars because the institute will be available to accommodate up to 300 persons.
President of the BUT, Belinda Wilson told her members in view of the fact that laws, rules, regulations and policies governing education are changing on a daily basis, that they must remain relevant. Mrs. Wilson also told the delegates that the workshop was all about education and empowerment and developing new plans while strengthening the old.