Bahamas Moving in the RIGHT DIRECTION!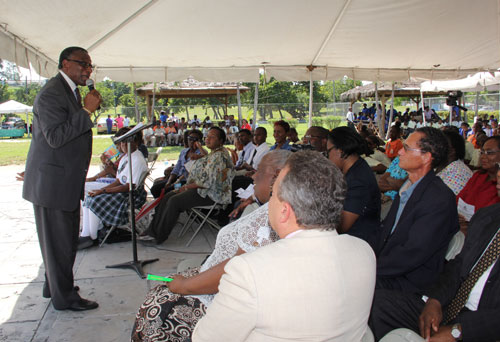 NASSAU, The Bahamas – Promoting food security at home is the objective of the Ministry of Agriculture, Marine Resources & Local Government to ensure Bahamians are less dependent on foreign food imports. One strategy to achieve food security is the promotion of family farming, or 'backyard farming,' a venture Minister of Agriculture, Marine Resources & Local Government the Hon. V. Alfred Gray suggested families, and young people get started with on the road to feeding ourselves.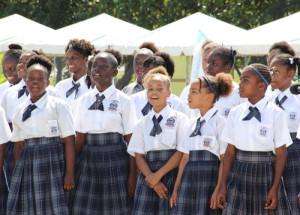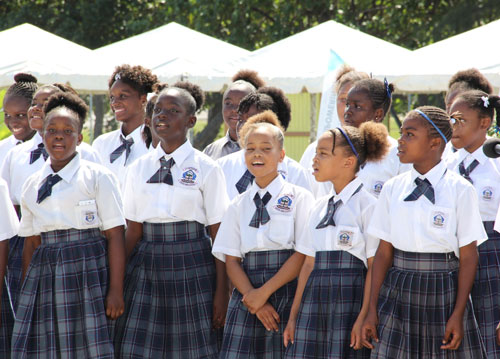 Along the theme, "Family Farming: Feeding the World, Caring for the Earth," Minister Gray officially opened World Food Day ceremonies on Thursday, October 16, at Arawak Cay and challenged Bahamian students to think about taking up agricultural science as a profession, considering the government's investment in the Bahamas Agriculture & Marine Science Institute in North Andros.
He thanked the Food and Agriculture Organization(FAO) of the United Nations, which established World Food Day around the world, and recognized, "today in The Bahamas we join some 60 plus countries in celebrating this wonderful occasion… World Food Day was always meant to sensitize the human race and people everywhere, as to the extent of hunger and the possible eradication of it."
Minister Gray acknowledged there are hungry people in The Bahamas as well as all over the world, with hunger affecting some 1 billion persons.
"In The Bahamas, I know you know someone, either your friend, your neighbour, or your neighbour's friend, who may go to bed hungry every day through no fault of their own, but simply because no food is available for them to eat," said Minister Gray.
"We come today to recognize that, first of all. And to recognize what role we could play individually, as families, and as a country."
Minister Gray asked the many students in the audience to consider planting backyard farms to help the nation reduce its dependency on imports and supply themselves with basic garden vegetables. He reminded them about what happened during the aftermath of September 11, 2001, when America shut its borders and air space for two weeks after the attack at the World Trade Center that killed many people.
"In The Bahamas, we only have sufficient food available to feed ourselves for three months. If we put all the food in The Bahamas together, we can only feed our country for three months if we cannot bring anything in," said Minister Gray.
"Could you imagine if we did not have food after three months of eating everything that's available, including bush? After that [there is hunger] because we are not growing sufficient to feed our country for longer than three months."
He continued: "that's why the government started this fantastic sexy thing in Andros called BAMSI: the name for the Bahamas Agriculture & Marine Science Institute."
Minister Gray encouraged parents and teachers to educate students as to what BAMSI is about because somebody has to take up what he considers to be the best profession today, which is feeding a nation. (BIS Photos/Letisha Henderson)