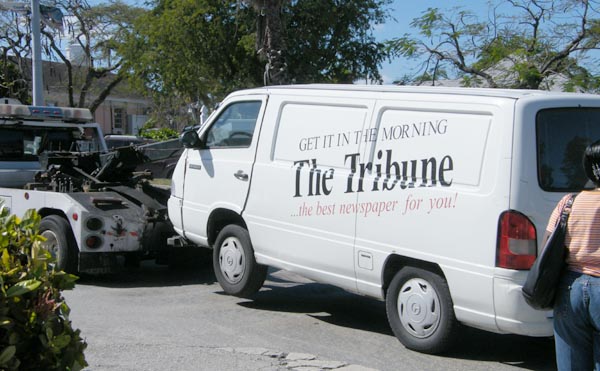 Operators at the wutless Toilet Paper in this town are so full of themselves. Almost everyday, members of the 'Toilet Paper' suggest that they have either grown or are bucking the trends or have defied the global death of newspapers now happening around the world. Who are they trying to persuade?
Last night our 'deep throat' inside the Tribune sent us their bogus story once again. And no matter how they twist it, the lies are getting worse every time they publish it.
In December the 'Toilet Paper' fired 8 workers, why? Because sales were down! Their distributions were suspended in Abaco and Grand Bahama, why? Because they could not afford Bahamasair anymore. Things are so bad for them the sports section is now in the A-section of the paper. The Business and Features section are now all one, why? BECAUSE ADVERTISING IN THE INDIVIDUAL SECTIONS HAVE DECLINED! And since the Chancey Tynes/Pindling articles, thousands of Bahamians have accepted and have grown accustom to the saying, a leopard cannot change its spots. YES, THE PAPER IS BIAS!
Now picture this as we know the newspaper business well. How can a paper increase in circulation, where it has suspended its distribution in markets it once enjoyed [Abaco and Grand Bahama]? That suspension alone would result in a decline in the circulation and printing of that paper by at least 5,000 copies.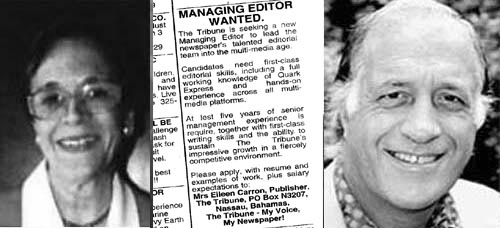 The Tribune has also suspended its subscription with The Audit Bureau of Circulations, the company, which audits and report newspaper sales for advertisers? How can they be pontificating the wellness their business,when recently they TERMINATED workers telling them that the sour economy is crippling the company? It was so bad last year the Tribune also fired its hardworking circulation manager Kurt Munroe, because sales slid and they tried to blame it on him.
And in the midst of all this what has happened with that JOA arrangement it made with the Guardian, where Eileen Carron announced, it had to happen because the business it has become increasingly difficult to operate these day in this bad economy. She highlighted then that it would make sense for both morning dailies to buy materials together in order to cut costs. We wonder where that arrangement now stands,  seeing that the Tribune continues to report that they're ahead of the competition, WHAT A SLAP AT THE GUARDIAN!
Yes things are just that BAD these days for the Tribune. AND NO LIE, SPIN or TRICKERY they publish this morning will assist in rescuing their tumbling dismal advertising numbers. ADVERTISERS IN THE BAHAMAS ARE NOT DUMB PEOPLE EILEEN!
Oh and did we say, that their advertising numbers have declined by 50%? That's a global record in itself!