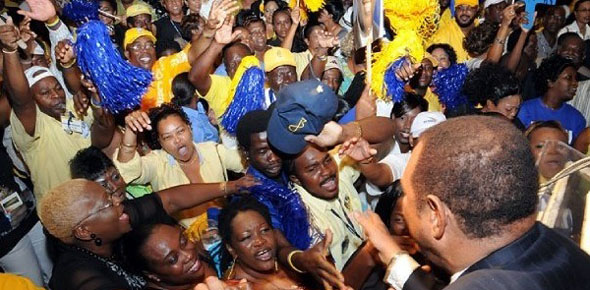 Notes for Rt. Hon. Perry G. Christie MP
Leader of the Opposition PLP
Opposition Leader's Office
Bay Parl Building, Nassau 23 June 2011
I want to use this opportunity this morning to welcome the Chinese Ambassador to my office and to The Bahamas.
As this is the first formal opportunity I will have to do so, I have taken the extraordinary step of inviting you the press to this courtesy call.
I want to take this time to offer my thanks to the government and people of China on the occasion of the handover of the Thomas A. Robinson stadium to the Bahamian people.  I and a number of my colleagues witnessed the handover yesterday and we toured the facility on Tuesday.
I am pleased with what I saw.  It is exactly as I envisaged it when I made by state visit to China in 2004.   I thank them for making the design changes that I requested so that the stadium could be a hurricane shelter.
I want to say that that when I started the negotiations for this, my sole interest was to provide a gift and a legacy to the young people of our country.  Yesterday's event was the capstone of that promise to the young people of The Bahamas.
There is no doubt in my mind that the stadium is for them, built for them, dedicated to them. Today, I reaffirm my commitment to the young people of our country.
When I was a young man I looked at my compatriot and friend Tommy Robinson and I remembered how he stood alone at the then Empire Games carrying our then colonial flag.
I saw the national pride it engendered.  I saw the personal discipline which it brought to his life.  I felt it inspire other young people.
So in my generation, we dedicated ourselves to building on that sterling example of Thomas A. Robinson so that the young people can have better facilities, a more secure financial grounding and support for their work.
The BAAAs, the Bahamas Olympic Association have all contributed together with the government and the private sector in making sure that our young people have a brighter future.
We know that sports is the window to so many opportunities.  It is not just a window to physical well being; it is also the door to the world, a world of intellectual fulfillment and professional improvement. It is wealth enhancing, life changing.
So I add my thanks this morning to the Chinese government and people for this extraordinary gift.  I ask the young people of The Bahamas to embrace these times and these new opportunities.  I pledge all my being for the years I have left in public life to ensuring that The Bahamas is a better place for them and for their children and children's children.
Thank you very much indeed.
—–End—