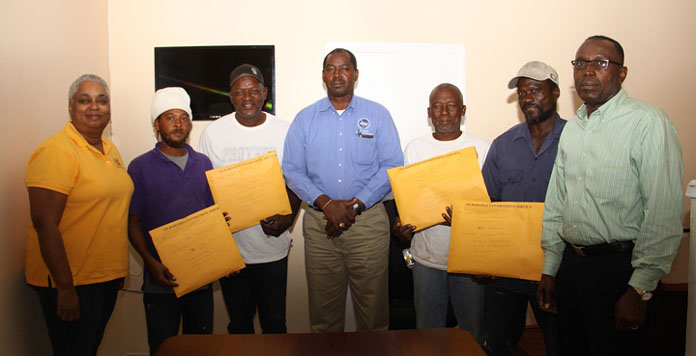 NASSAU, The Bahamas – The National Emergency Management Agency (NEMA) and the National Repairs and Reconstruction Unit (NRRU) issued contracts for the rebuilding of homes on Crooked Island, San Salvador and Long Island, the areas hardest hit by Category 4 Hurricane Joaquin in October 2015.
On Thursday and Friday, February 11 and 12, 2016, Captain Stephen Russell, Director of NEMA, and Melanie Roach, head of the NRRU, travelled to those islands to have local contractors sign contracts and to issue their mobilization cheques, materials distribution lists, building plans and building code manuals.
The shipping of building materials begins the week of February 15 and it is estimated that once all supplies are in place, it would take eight to nine weeks to complete each home.
The contractors, who have been engaged by NEMA in previous rebuilding processes following destructive hurricanes, come with a wealth of experience in construction. Others involved in the reconstruction phase are "Friends" of Crooked Island supplying hurricane impact windows, a group from Grand Bahama, and the Methodist Habitat organization.
About 1,122 homes were damaged and or destroyed during the passage of Hurricane Joaquin; 200 have been repaired so far by NEMA. NEMA has received an estimated $3 million in funds donated towards the Hurricane Joaquin relief; approximately $1.4 milion already spent.
COLONEL HILL, Crooked Island – Contractor Clinton Scavella is contracted to build a one-bedroom house at $21,500 each on Cabbage Hill. Contractor Conrad Williamson to build two houses in Cabbage Hill: a one-bedroom and a two-bedroom. And Mario Lewis to build two, one-bedroom homes in Johnny Hill both at $21,500 each.
Residents on the island are happy that their lives are returning to some sense of normalcy with the construction of their homes. "The hurricane was a blessing in disguise," said Thomas E. Thompson, 59.
Rueben Ferguson, 41, employer of the Department of Environmental Health Services as an Assistant Vector Control Officer realized that the rebuilding efforts would take some time but was happy it has begun. The husband and father of three sons said he would also be happy to have his family return home once their home is completed. They went to New Providence to live with relatives after the storm ravaged their home.
Another resident, Rowena, 78, known for her luscious watermelons grown locally in her farm next to her home, too is "grateful and happy" she would be getting a new home.