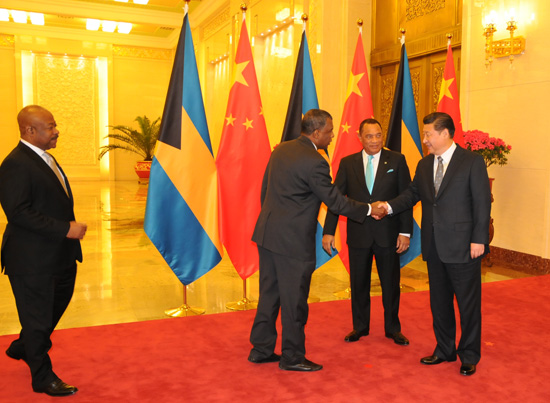 Nassau, Bahamas – Earlier today, the Bahamas Information Services issued a statement indicating that the Chinese President announced that The Bahamas would trade in RMB or Residential Mortgage Backed Security. This is incorrect. The fact is that during a thirty minute meeting with Bahamian Prime Minister the Rt. Hon. Perry G. Christie and Chinese President Xi Jinping, the Chinese President announced an agreement in principle that would allow The Bahamas to be a country where debts involving international parties can be settled. He also announced an agreement that would allow The Bahamas to trade in Chinese denominated currency, the Renminbi (RMB) Chinese yuan.
This is good news for The Bahamas and especially the Financial Services Sector that stands to benefit substantially from the introduction of this new financial product and service, making the Bahamas jurisdiction only one of very few countries in the world where RMB trading takes place. This brings to fruition years of hard work by the Ministry of Financial Services in negotiating this arrangement with the Chinese government.  The Ministry of Financial Services had been meeting for the last two years with Chinese authorities to develop this new financial market, and was a topic of discussion and negotiation on the most recent visit to China by the Ministry of Financial Services late last year.
Additionally, the government's policy thrust to create The Bahamas as a center for international arbitration is beginning to bear fruit.
These new financial products are in line with the vision of incoming Financial Services Minister Hon. Hope Strachan which is to advance the Bahamas as a global financial hub inclusive of commercial trade financial transactions.  The Minister recently pointed out that the location of the Bahamas is a strategic and competitive advantage which creates opportunities for greater international trade not only within the western hemisphere, but also in Europe and notable China.
"We are very strategically placed in terms of Central and South America, North America and even in terms of Europe. We have the opportunity to increase our trading opportunities."
The Prime Minister and his ministerial delegation are in China this week to attend the China/CELAC Forum in addition to pursuing a number of projects and initiatives on behalf of the Bahamian people. These projects include a reciprocal air services agreement involving Air China and Bahamian registered airlines; an indoor stadium for youth development; an agreement on technical and research cooperation between the Bahamas Agriculture Marine Science Institute (BAMSI) and China's Ocean University and other investment opportunities.
The delegation is due back in Nassau on Saturday, 11th January 2014.