NEW GG COULD BE ANNOUNCED BEFORE THE END OF THE YEAR!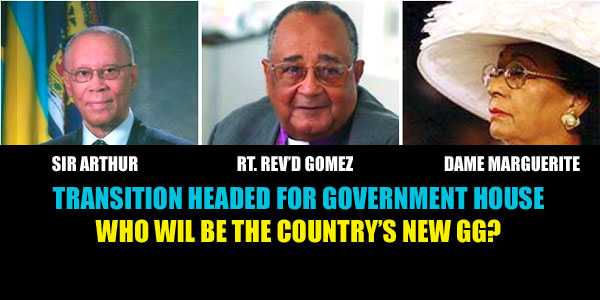 BP'S LATE Breaking Saturday Report >>>The days to a countdown for a New Governor General has begun.
Bahamas Press was informed today that Sir Arthur Foulkes has left the country – unannounced – with Dame Marguerite Pindling being appointed Acting Governor General for the next four days.
No announcement as to where Sir Arthur went has been reported – But BP is checking flight records to confirm.
WHO WILL BECOME THE NEXT GOVERNOR GENERAL IN THE COMMONWEALTH OF THE BAHAMAS? SOURCES TELL US HIS GRACE THE RT. REV'D DREXEL W. GOMEZ IS BEING CONSIDERED AS a strong contender for the office.
We shall soon hear….BP IS LIVE AT Government House tonight!
WE REPORT YINNER DECIDE!