Christie new Mega Project in Southwest set to began PLP Job Creation Boom – Investors find Confidence with New Government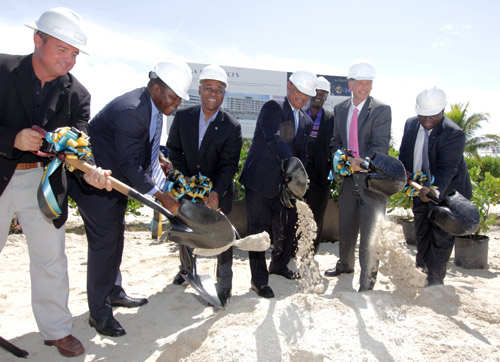 Nassau The Bahamas – Prime Minister and Minister of Finance the Rt. Hon. Perry Christie congratulated Albany Bahamas, on September 3, 2012, for its expansion and the 650 jobs and millions of dollars in revenue the property's new phase will be producing in The Bahamas.
"It's one thing talking about a vision. It's quite another thing to actually see it manifested and then to see the linkages that are being established to make this a real total, integrated and, obviously, very co-ordinated development going on here," Prime Minister Christie said during the groundbreaking ceremony for the first three buildings of the Marina Residences at Albany.
Also present for at the groundbreaking were Minister of Tourism the Hon. Obie Wilchcombe, Minister of Labour and National Insurance the Hon. Shane Gibson, Minister of State for Investments the Hon. Khaalis Rolle, senior government officials and private sector stakeholders.
"Today we reach an important milestone for Albany and The Bahamas, as we break ground on the Marina Residences at Albany, again a unique concept that has never before been executed to this level in The Bahamas," Prime Minister Christie said. "This important second phase of construction at Albany is a terrific vote of confidence for the Commonwealth of The Bahamas."
Prime Minister Christie said that upon completion of the whole Albany Bahamas property, it would have an investment value in excess of $1.3 billion.
"Now you can see it, sense it and it is happening right before our very eyes," he said.
Prime Minister Christie also pointed out that, according to Albany's managing partner Christopher Anand, it was one of the only developments in the Caribbean that survived through the recent economic downturn.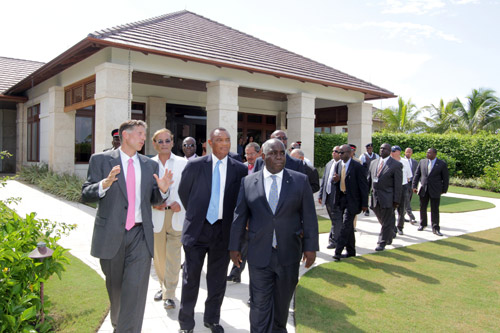 "I would like to thank you, on behalf of the Bahamian people, for being able to withstand the heavy onslaught that impacted the entire world and to be able to continue with the work here," he said.
Prime Minister Christie said he recalled that, after many months of "thorough and focused" negotiations during his first term in office, Park Ridge Securities Corporation entered into a heads-of-agreement with his government, on November 2006, to create Albany, which is "a premier resort and residential golf community" situated on some 565 acres on the southwest coast of New Providence.
"It is for me to indicate that when I was advised of the vision, I was told that it was going to be developed by the Tavistock Group, which was one of the most proven and accomplished developers of real estate in the world," Prime Minister Christie said.
The Tavistock Group, headed by Joe Lewis, partnered with world-renowned golfers Tiger Woods and Ernie Els in the development of Albany.
He added that Albany Marina hosts a number of mega-yachts, including one owned by a cruise ship company owner. This, Prime Minister Christie noted, bodes well for the future of Albany's growth and the benefits for The Bahamas.
"Albany will continue to attract some of the best, the wealthiest, to our country and, when they come, they have the opportunity to see other parts of The Bahamas and invest in other parts of The Bahamas," Prime Minister Christie said.
"What you are now demonstrating down here (at Albany), really, is that with vision and proper execution, you are able to do a wonderful job and get a wonderful return on the kind of mixed development that is going on here in Albany," he added.