PLP offers condolences to colleague the Hon. Cleola Hamilton MP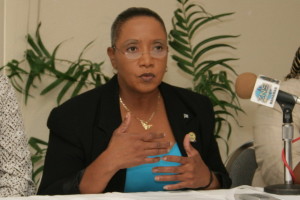 Progressive Liberal Party
The Progressive Liberal Party offers condolences to our colleague the Hon. Cleola Hamilton on the senseless murder of her brother Desmond Collie who lost his life on Sunday, 29th October 2012.
We further note that our colleague has suffered the recent passing of another sibling and our thoughts and prayers are with her during this very difficult and grief-stricken period. We ask the nation to remember the Hon. Cleola Hamilton in their prayers.
On the issue of crime, the PLP decries the unacceptably high level of crime and especially murder, but we are confident that the police are doing all that they can to bring all perpetrators to justice as they are supplied with the requisite resources to effectively tackle this vexing challenge.
We remain committed to Urban Renewal 2.0 as an important tool and a proactive strategy in addressing the root causes and causal factors of crime and the fear of crime nationwide, but especially in vulnerable and at-risk neighborhoods like Nassau Village.
We support the continuing efforts of the government of neighborhood involvement in this national fight, as the best hope of breaking the back of this scourge.
We encourage all Bahamians to do their part in ensuring that their communities are safe from the rancor of crime and to advance a national culture of intolerance to unlawfulness because this is a national fight that we must and can win together.
-30-