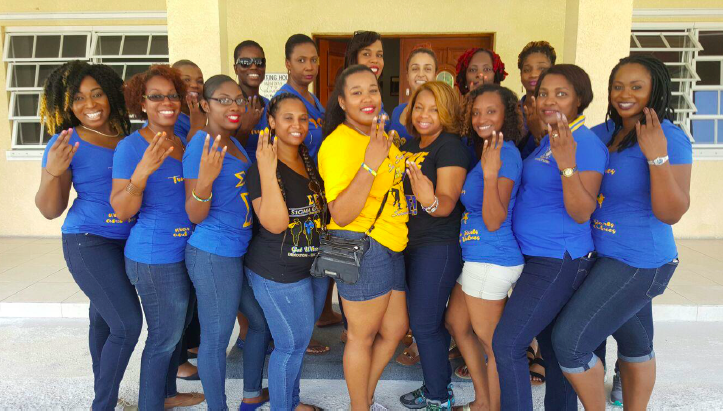 Freeport, Grand Bahama – The Zeta Rho Sigma Chapter of Sigma Gamma Rho recently celebrated Founders' Day on November 12, 2018. However, the entire month of November, better known as "Rhovember", is used to commemorate its 96 years of existence. Sigma Gamma Rho Sorority, Inc. (ΣΓΡ) was founded on November 12, 1922, at Butler University in Indianapolis, Indiana by seven young educators. It was incorporated within the state of Indiana in December 1922 and became a national collegiate sorority on December 30, 1929, when a charter was granted to the Alpha chapter. Public service, leadership development and the education of youth are the hallmark of the organization's programs and activities.
Founded in the midst of segregation, Sigma Gamma Rho Sorority, Inc. is the only sorority of the four historically African-American sororities which comprise the National Pan-Hellenic Council (NPHC) established at a predominantly white campus.
Sigma Gamma Rho Sorority, Inc. has over 100,000 members with more than 500 undergraduate and alumnae chapters throughout the United States, Bermuda, The Bahamas, Canada, Africa and Korea. Sigma Gamma Rho also supports two affiliates: the Rhoers, a group of young women, and the Philos, women who are friends of the sorority.
Some of the International Projects of Sigma Gamma Rho are the: Sigma Youth Symposium, Project Reassurance, Project Wee Savers, Operation Big Book Bag and Hattie McDaniel Cancer Awareness and Health Program. Some additional initiatives of the sorority are the Swim 1922 Program, Act against AIDS, St. Judes Walk for Life, Mentorship Programs and Mwanamugimu Essay Contest.
Locally, the Zeta Rho Sigma Chapter is involved in mentoring at local primary schools through story telling/reading, breakfast initiatives, Swim 1922 clinics, The Salvation Army Bell Ringing and Packaging, The Keep Grand Bahama Clean Initiatives, Breast Cancer and Lupus Awareness, HIV/AIDS Awareness and Prevention, Teen Pregnancy Prevention mentorship of young girls Rhoers (12-18) and Rhosebud(8-11)and working in conjunction with its Philo affiliates to emphasize its motto "Greater Service, Greater Progress".