National Sailing School gets ready the next sailing generation…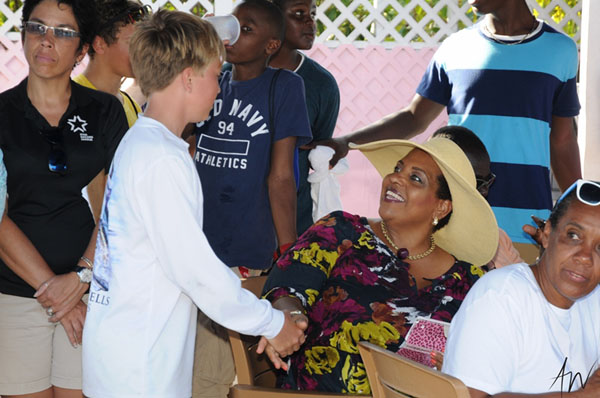 NASSAU, The Bahamas (November 10, 2015). Written by Robert Dunkley, National Sailing School Director–
2015 was the second year The Bahamas National Sailing School and Nassau Yacht Club have hosted the Cecil G Cooke Memorial Jr Regatta. Sponsored by Subway and organized by Sandra Cooke, this regatta honors the late Cecil Cooke, one of this country's great sailors who competed with Sir Durward Knowles' in the 1960 Tokyo Olympics when they won the first ever gold medal for The Bahamas. Having a great interest in youth sailing, he would have thoroughly enjoyed this weekend's event, as did all the youth and parents who participated.
This regatta was the largest junior sailing event ever in Nassau and is one of four major junior regattas held each year in The Bahamas, attracting sailors from a number of family islands. With 57 Participants from New Providence, Grand Bahama, Harbour Island, Long Island and Abaco, the results showed just how competitive our young sailors are throughout the country.
These juniors, depending on age, size and skill level, raced in different classes/fleets, such as the Optimist Dinghy Championship Fleet for experienced 8 to 15 year olds, Optimist Green Fleet for beginners, Sunfish, Laser Radial and Laser 4.7 for older more advanced sailors.
Sailing conditions for this two-day, seven-race regatta were perfect with a steady 10 to 12 knot breeze out of the east.
While there are winners of each fleet, the overall winner and sailor whose name is inscribed on the Cecil G. Cooke perpetual trophy is the first place finisher in the Optimist Championship Fleet as this is the class in which our juniors begin their sailing. It is the youngest group and because of this, the group Cecil Cooke would have been most supportive of.
That said, the overall winner this year is Tristan Eldon, a 13 year old from Nassau. He won convincingly in this competitive 26 boat fleet by placing first in all seven races. This makes it his third major win this year, the other two being KPMG Championship Regatta and The Bahamas Youth Olympic Regatta. The Long Island trio of Isaac Fox, Luke Knowles and Enrique Wells battled it out for the second and third place trophies. Isaac and Luke were tied for second place and Enrique was one point behind them. Isaac won the tie-break which gave him second, Luke was third and Enrique took fourth with Melisha Higgins from Harbour Island taking top female. You couldn't have asked for any closer or more exciting racing.
Carson Miller from Long Island won the Optimist Green Fleet, with Joshua Weech second and Jaxon Parker Searcy third, both from Nassau.
Helena Wassitsch took top honors in the Sunfish Fleet closely followed by Jaqueline Frode, (both from Nassau) and Harbour Island's Antwuan Dean took third.
The Laser 4.7 class was won by Tahj Ramirez with five firsts and two seconds. Robbie Carey took second and Daisy Tinkler third – all from Nassau.
The Laser Radial class, in which our most advanced sailors compete was won by Spencer Cartwright of Nassau with five firsts and two seconds. Branden Sands from Cherokee Sound, Abaco was second and Cochise Burrows from Nassau was third.
Congratulations to all the sailors and a special thank you to Subway for sponsoring this event, now our most popular mixed class junior regatta in the country.