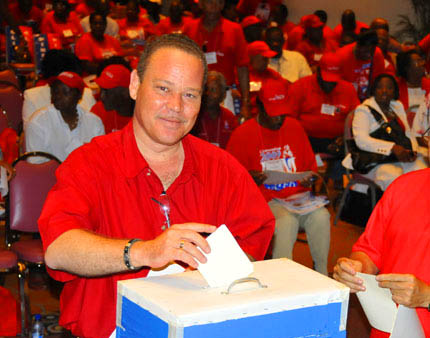 <<< Carl 'Undernourished' Bethel, the ALBINO Mongoloid and Chairman of the FNM is alleged to have spread rumours of the PM's demise this weekend.

Nassau, Bahamas — Deep wickedness in the FNM is to blame for the nasty attack and rumours against Prime Minister Rt. Hon. Hubert Ingraham. Sources deep in the FNM tell us it is alleged, "Carl Bethel and his goons may have been the perpetrators of those lies against the PM who is in South Africa attending the World Cup."
You would recall we reported previously that Bethel was alleged to have been the 'Prostitute' to the Tribune who reported on a supposed rift between the PM and Dr. Hubert Minnis.
It has been also reported that Bethel may have been the INITIATOR of vicious and scandalous rumours on former FNM Senator Tanya McCartney. It is said he has developed a pattern of such nasty and vile behaviour. He has no SHAME! And PM had good and valid reasons to fire that ALBINO Mongoloid.
An FNM source tell us, "They are trying to undermine the leadership of the Rt. Honorable Prime Minister while he is out of the country, but we warn them the day the maximum leader returns, the house will be set in order and heads may roll."