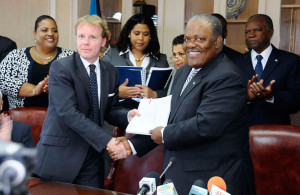 A LETTER TO THE EDITOR
Bahamas Press, on Monday I was really taken back when I saw the FNM government announce in Parliament that they intend to revise the National Investment Policy of the Bahamas, and more specifically, remove a provision in the policy that cordoned off the entertainment and restaurant sector to Bahamians only.
I was really puzzled by this, as I couldn't figure out why now or why is this even necessary. One would think that being in a recession the governing party would do all it can to stimulate jobs for its citizens by creating policies that would encourage THEM to invest more in the local economy, but Mr Ingraham seems to be creating an investment climate favorable for foreigners and not Bahamians. So it's lost on me, how, by removing this protection, are Bahamians encouraged to become owners of their economy.
Why is it that the only answer Bahamian governments have for stimulating the economy is to bring in MORE FOREIGN INVESTMENT? I know its needed, but is there even a designated cut off point, where they say once a certain level of foreign investment is in the country, they will not actively seek out foreign investors and be more selective in approving foreign projects so as to focus more on creating policies and programs that would encourage Bahamians to become business owners? Are they even thinking like this? Will the foreignization of this economy ever stop?
Bahamians already have a hard time getting business loans right now and this FNM government has decided to open the door for Bahamians to come into direct competition with foreigners who will, in no doubt, have a financial advantage at the start? I am bewildered by this decision and ask, how does this revision benefit Bahamians when it will only serve to keep us as employees rather than create Bahamian employers.
Shouldn't the Bahamian government be about promoting Bahamian investment? Shouldn't they be busy trying to figure out ways to make it easier for Bahamians to empower themselves in the local economy? Why is our government going out of its way to be investor friendly to foreigners? Why cant they take that same effort and put policies in place in other sectors of the economy that would encourage more Bahamians to become employers. Why wont they make it easier to open up a business? Why wont they get the banks to stop their unfair lending practices? Where is the governments effort to protect and encourage Bahamian ownership?
When I heard this proposal by Mr Ingraham, I asked myself, who is Mr Ingraham looking out for? Who is he really leveling the playing filed for?
I would like to know what Mr Ingraham has seen during these tough financial times that suggest to him that Bahamians are ready, at this time to compete against a well financed group of restaurateurs or entertainers? The restaurant and entertainment field has already been hit hard by the recession and now they have to worry about some foreign entity coming in to take a slice of an already small economic pie? Bahamian entertainers cant even get consistent work in the hotels and now they are going to have to compete with foreign entertainers? Can somebody please tell me how does this new policy benefit Bahamians again again? And have they taken consideration on how this will affect the already fragile Bahamian culture?
But as I sit back and ponder this, I see a trend by Mr Ingraham. Seems like you have to be apart of the old oligarch or a foreign national to get Mr Ingraham to act on your behalf!
Consider this, in 1993, Mr Ingraham repealed the Removable Properties Act. The very second he did this, rich foreign nationals began buying land at an unprecedented clip. With high demand, prices rose sharply and quickly and with wages being as low and stagnant as they are, a young family or newly married couple cant even afford to buy a piece of property in a nice area anymore.
Upon its repeal, the very same thing the Act was implemented to prevent came to fruition. Middle class Bahamians couldn't afford land in their own country. If your family doesn't have any generational land, your probably going to be renting for the rest of your life or praying you get a government built home. Meanwhile, the rich foreigner can come in here, pick, choose and refuse which piece of Bahamian property he wants because the impediment has been removed.
So if Bahamians clearly didn't benefit from this decision, then who did? If you have been around for a while, you should know who the big players are in the real estate industry in the Bahamas. For years the Removable Properties Act had been a thorn in their side. They knew there was a hungry foreign market that was dying to get their hands on Bahamian land, but to these selfish individuals, the Act was an impediment to greater financial gain! So when Mr Ingraham showed up, he bought into their deceit and foolishly repealed the Act, not even taking into account the affect it would have on the future price of land for average Bahamians. No one in their right mind today, would agree that the repeal of that law has put Bahamians in a better position to acquire property, no one!
Again I ask, who has Mr Ingraham leveled the playing field for?
Then, I started to think about national health insurance and how hard the FNM campaigned against it and how quickly they killed the bill once they assumed office in 2007. Everybody knows that most Bahamians don't have health insurance. Its just to expensive. We all know it was needed, but with its implementation, which special interest group felt this initiative would affect its bottom line? That's right, another financial backer of the FNM, the big insurance companies.
The main argument the FNM used was that it was to expensive to implement. The implementation cost would have been around $250 million, but think about this Bahamas Press, this present government of the Bahamas, in 4 yrs, has already borrowed almost that amount just for road works! They borrowed millions to pave a stretch of road for the Miss Universe Pageant, a one time event, where they cant even quantify what the Bahamas got back in return, but cant borrow monies to implement a scheme that would assist the people in getting much needed medial care? Come on man!
The decision by Mr Ingraham to kill the Plan was not about finances. It was about protecting the bottom line of another financial backer, another special interest. It was the insurance companies who didn't want it. And whats so ironic was that while in opposition, Mr Ingraham and his side voted in favor of National Health Insurance, but it seems like when they got that insurance money during the campaign, everything changed and killed the very bill he and his side voted in favor for. What a shame!
And their answer, the National Prescription Drug Plan, does nothing to remedy the more important issue of health care affordability in this country. That plan was just a poor attempt to quell the cries for some kind of action. To Mr Ingraham, the roads are more of a priority than the health of his own citizens.
So I ask again, who has Mr Ingraham leveled the playing field for?
Then I thought about the Port deal. To this day the Bahamian people still don't know who are the 19 private investors that make up the Port group. Its funny because during the BTC debate, one of the FNM's talking points was that no one knows who were the people behind Blue Water, even though the government paid the same Blue Water people over a million dollars to go away. But when it comes down to the port investors, Mr Ingraham and his cabinet has yet to reveal who these men are. But I would bet that when the names of these people are revealed, it will be more of the same; another special interest group of the FNM.
The FNM government gave these fellas 40% share in the new port and a 20 yr monopoly on that facility with the power to create and set fees and penalties as they like. They will have the direct ability to affect the cost of living in this country as whatever fees they implement will no doubt be passed on to the consumer. The fact is, the old Bay Street Boys has re-tighten their grip on the economy of this country under Mr Ingraham.
These guys are going to make TENS OF MILLIONS of dollars on that deal. The 60% share of the port owned by the government will be offered to the public, but what makes you think those 19 investors are not going to buy up the majority of those shares? Is there a prevision in the contract preventing this? I don't know as Mr Ingraham has yet to reveal the contract to the public, so at the end of the day, those fellas probably will own the majority shares in the new port!
I ask again, who has Mr Ingraham leveled the playing field for?
Seems like whenever there is an opportunity to make the small Bahamian smaller, Mr Ingraham does not pass it up. The chairman of the FNM says Mr Ingraham is compassionate and looks out for the interest of the average Bahamian, but wasn't this same man accused of union busting in his second term? In this term, he has raised taxes on us to the highest levels in Bahamian history, borrowed over one billion dollars in 4 years and all they have to show for it is poorly managed road works.
Mr Ingraham doesn't even want to do an unemployment survey because they know the findings will contradict their mantra that the economy is turning around. So they tout the unemployment benefit numbers knowing full well that that doesn't tell the true story of the level of unemployment in the country!
I ask again, what has Mr Ingraham done for the rest of US? He continues to give out goodies to those who don't need it, while throwing sour limes at the rest of us!
With all the effort he puts into making sure special interest groups and foreigners get ahead, I wish he would put the same effort in putting together an effective crime, immigration or education strategy. It seems he is quite content on letting me and you sleep in fear, loose jobs to non Bahamians and let our schools churn out functionally illiterate youths.
I cant afford gas for my car, I'm using less electricity but the bill still going up, growing stuff in my yard because the prices in the food store are too high, drinking all kinds of bush medicine because I cant afford to see the doctor and he wants to tell me he is looking out for me, my children and grand children? And then turns around and has the gall to ask me to vote for his party? SMT……………..
How much more drubbing is Mr Ingraham is going to put on US? How much more of our national self esteem is his government going to destroy? They say they are for us, but every time they have a chance to prove it, they only show devotion to foreigners or their special interest groups. Under Mr Ingraham, are there any advantages to being a Bahamian in the Bahamas? Do I really need a foreign accent or be apart of the oligarch to get ahead in my own country?
Looks like the FNM wont touch any advantage that their backers have in the law, but are eager to remove any that gives regular Bahamians even the slightest of edges! I am realizing more and more everyday that Mr Ingraham was never about the people, he was always about trying to undo the protections the founding fathers put in place to give the rest of us a chance of being and doing something in this country!
What about the rest of us Mr Ingraham, what about the rest of us?
Altec