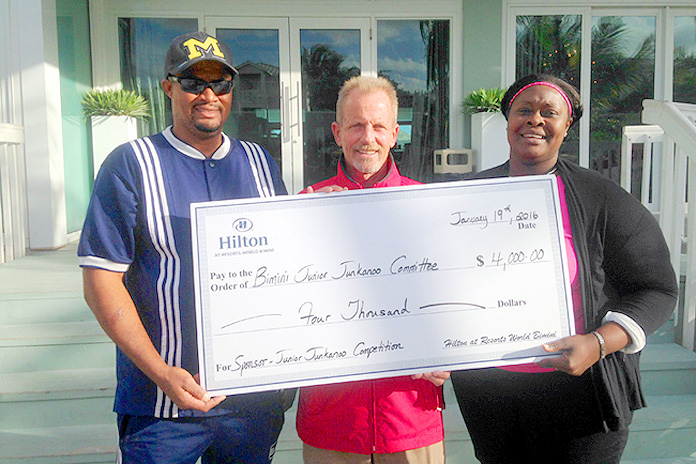 Bimini, Bahamas – Resorts World Bimini (RWB) is the offering hearty congratulations to the Bimini All Stars Junkanoo Group upon capturing the top prize in the All Age division of the Grand Bahama Junior Junkanoo parade. RWB once again displayed its commitment to the island's youth and the preservation of Bahamian culture by covering the Bimini All Stars' travel expenses to the recently held parade. The donation paid off with the youngsters capturing the inter-island competition's first place prize in their division.
The donation continues RWB's legacy of supporting the arts in Bimini. RWB was the first corporate sponsor to donate to the island's Junior Junkanoo movement when it began in 2015 with the inaugural Bimini Junior Junkanoo parade. That parade which featured children from pre-school age all the way up to high school competing individually for top prizes was a huge success. The second annual Bimini Junior Junkanoo parade is set for Friday, February 26.
"There is a great sense of pride to see how far Bimini's Junior Junkanoo has come in just one year, and we at Resorts World Bimini are pleased to continue supporting this movement", said RWB General Manager Ray Valentino who presented the check. "Junkanoo is very much a part of what we do at the Resort, and by sponsoring Junior Junkanoo, we are contributing to the continued growth of this exciting and colorful celebration."
Bimini Junior Junkanoo Committee member Nadia Sherman-Rolle thanked the Resort for their continued support.
"Resorts World Bimini's generous donation is greatly appreciated and will go a long way in assisting the kids," she said.
The Junior Junkanoo program serves as the feeder system for senior Junkanoo and helps preserve the future survival of the authentically Bahamian artistic expression for years to come. The annual cultural celebration also fosters discipline and teamwork within its participants while providing an avenue for them to express their creative talents. The first Junior Junkanoo parade was introduced to The Bahamas in 1988, and since then parades have been held throughout country. The 2016 Bimini Junior Junkanoo
Parade will be held on February 26 and will feature the island's children in three categories: Pre-school, primary, and high school.