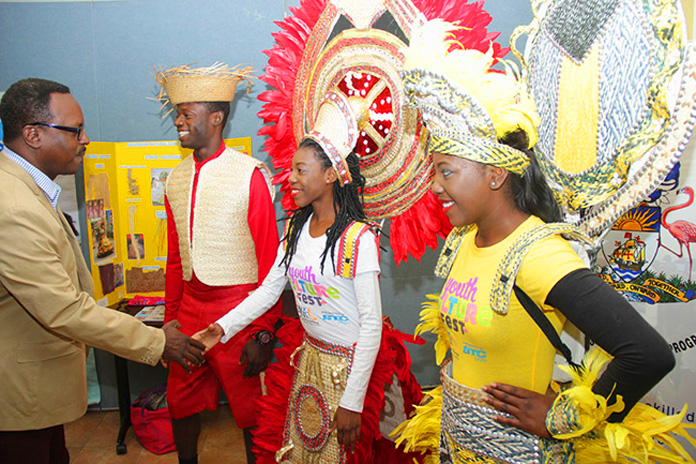 Nassau, New Providence – More than 3,000 children clad in costumes made from indigenous Bahamian materials will take over Da Cultural Village on April 9 during a dynamic display of Bahamian culture and history.
Officials of the Bahamas National Festival Commission (BNFC) have officially launched Youth Culture Fest – an extension of Bahamas Junkanoo Carnival.
The school-aged children will parade from the top of Fort Charlotte to the Western Esplanade wearing costumes made of straw, sisal, sponge, burlap and more. The parade will be followed by a mini-cultural show including music, food, art and dancing.
Marching bands are also expected to perform along with a number of Bahamian artists during a special concert.
Director of Youth Culture Fest, Dr. Ann Higgins explained that the festival exceeded expectations last year, and officials are planning for this year to be even better.
"We have group of young people that are about to express our culture through their artwork. If you have groups in the community, we would like for you to join the 25 groups that are already registered, you also have an opportunity to be a part of the groups," Dr. Higgins said.
"There are children in the community that we would still like to participate. You can always call us at the Bahamas National Festival Commission at 356-2100 and we can direct you to one of those groups."
The theme of this year's Youth Culture Fest is The Road to Majority Rule.
Events Coordinator Pastor Henry Higgins said the idea is to showcase Bahamian culture and history.
"What we are doing is showcasing our history up to Majority Rule. We thought it would be important to share this with the nation. We will showcase through our costumes the music and dance through the 25 groups," he said.
"We've also added the landfall of Christopher Columbus all the way to the Sir Randolph Fawkes Labour Day parade. All of the history of The Bahamas will be encapsulated."
Chris Sandyford of One on One preschool said the children there are excited about participating.
"I'm excited for this festival mainly because of the educational part of it. We can make it part of our curriculum and tie it in. The children have to know where they came from. Where they are and where they are going to go," she said.
Minister of Youth, Sports and Culture Dr. Daniel Johnson also endorsed the festival.
"Culture is a platform for young people. It is the way to go," he said.
Meanwhile, Bahamas Junkanoo Carnival is set to officially launch in Grand Bahama on April 15-17.
The finale Bahamas Junkanoo Carnival events in Nassau are scheduled for May 5-7.
Aspects of the events include Junkamania, the Music Master competition and Road Fever.