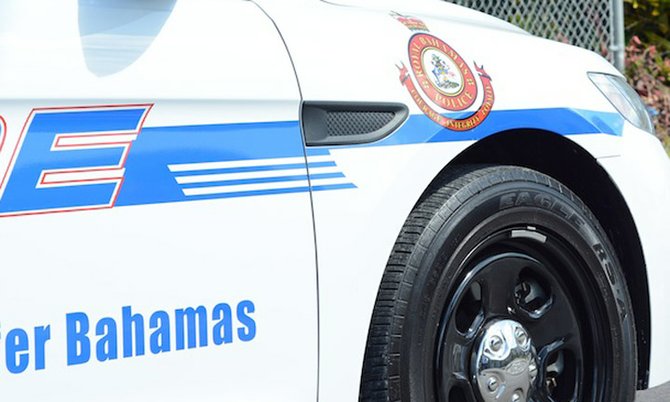 Nassau, Bahamas – Sixteen persons were arrested and a handgun along with a number of stolen items seized, following day- two of a police operation that occurred in several communities of New Providence on Thursday 25th September 2014. A number of the suspects are being held for Possession of suspected stolen property and possession of dangerous drugs.
Additionally, over 160 drivers were cited for various traffic violations.
The operation targeted persons wanted for a number of serious crimes and persons involved in the sale of drugs and possession of firearms.
The operation, which is consistent with the Commissioner's 2014 Policing Priorities, was under the command of Assistant Commissioner Leon Bethel.
POLICE SEEK PUBLIC'S HELP IN ARMED ROBBERY
POLICE are seeking the public's help in solving an armed robbery that occurred on Thursday 25th September 2014.
According to reports, shortly after 2:00pm, a man was a his residence located at St. Vincent Road, when a man armed with a screw driver robbed him of a watch before fleeing on foot.
Investigations are ongoing.
POLICE SEIZE HANDGUN
According to reports, shortly after 2:00pm on Thursday 25th September 2014, Officers from the Flying Squad acting on intelligence went to a bushy area at Durham Street off Mt. Royal Avenue, where they uncovered a handgun along with a quantity of ammunition. No one was arrested for this seizure.
7 ARRESTED OVERNIGHT BY MOBILE DIVISION OFFICERS
Consistent with the Commissioner's Policing Priorities for 2014, Mobile Division saturation patrols intended to reduce crime and to minimize the ability for criminals to commit criminal activities resulted in the arrests of seven (7) persons overnight for various minor and major offences.
POLICE are appealing to anyone with information regarding any crime, no matter how small or insignificant (the tip) may seem, to anonymously call Police at 919 or CRIME STOPPERS at 328-TIPS (8477) (New Providence) or 1-242-300-8476 (Family Islands)
CRIME PREVENTION TIP OF THE WEEK
DO NOT GIVE OUT PERSONAL INFORMATION ON THE PHONE, THROUGH THE MAIL OR OVER THE INTERNET UNLESS YOU HAVE INITIATED THE CONTACT OR KNOW WHO YOU'RE DEALING WITH.
Please visit the Royal Bahamas Police Force Website at www.royalbahamaspolice.org for Daily Crime Reports and additional Crime Prevention Tips.