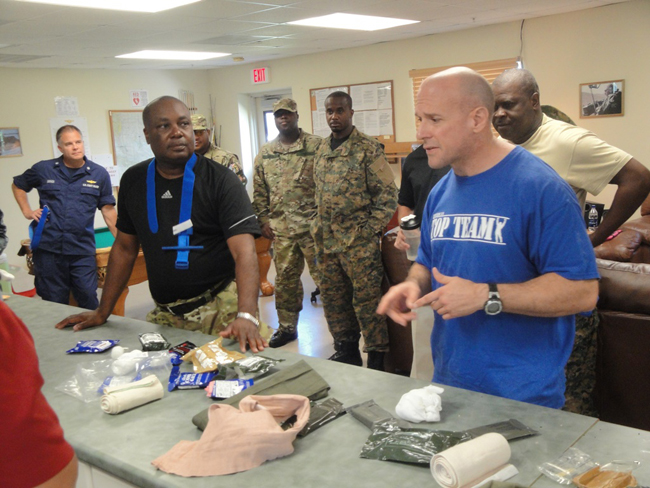 As part of continuing U.S.-Bahamian bilateral cooperation under Operation Bahamas, Turks and Caicos, the United States Embassy's Drug Enforcement Administration, U.S. Coast Guard, and the International Narcotics and Law Enforcement Affairs Section teamed up to provide more than twenty Royal Bahamas Police Force officers from the Drug Enforcement and Marine Support Units advanced tactical training from September 9-11, 2014 in Exuma.
Assistant Commissioner of Police Anthony Ferguson welcomed attendees to the OPBAT event, where officers received emergency medical training, discussed helicopter operation strategies, and participated in a mock drug interdiction exercise at sea—all alongside their U.S. law enforcement counterparts. The skill building opportunity was well received by newer officers in the drug and marine units. It also provided important refresher training for the more seasoned officers in the group, some of whom have up to twenty years of experience combating drug trafficking in The Bahamas.
"This training shows the strong partnership and cooperation between The Bahamas and the United States," one officer remarked, adding that he enjoyed getting to know is counterparts in the training setting.
OPBAT is a 35-year old, multi-agency, international drug interdiction effort focused on stopping the flow of illegal drugs from South America and the Caribbean to The Bahamas, the Turks and Caicos Islands and the United States. Funding for the training was made possible through the Caribbean Basin Security Initiative (CBSI) to combat the drug trade and other transnational crimes that threaten regional security.