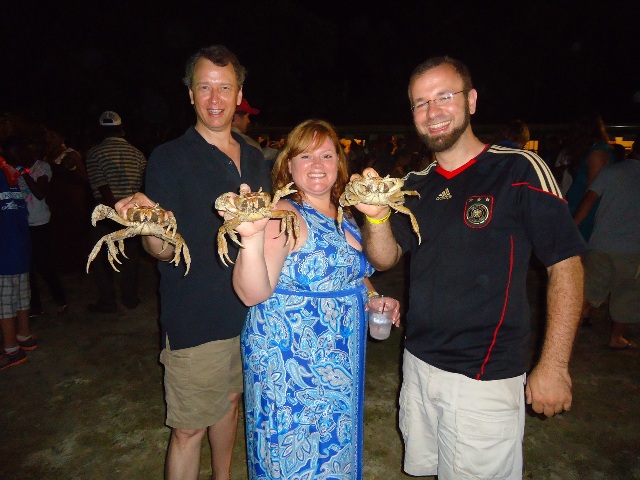 ANDROS, Bahamas – The popular Andros Crab Fest is now in its 17th year and officials are looking to build on the success of previous years.
The festival is derived from a long and deep cultural heritage of the inhabitants and descendants of Andros.
Androsians are know for harvesting and the consumption of the large land crabs that come out seasonally in large numbers in the central and south areas of the large lush island.
Over the years, Andosians have earned the nickname "Crab Catchers" and are known as the best and original crab culinary specialists in the country.
When the rains fall at the end of May and the beginning of June, Androsians get crabbing fever. All Androsians converge on the island for catching crabs to enjoy selling and eating them.
During the second weekend of June, all Androsians, their decedents and the rest of The Bahamas head to Queen's Park, Fresh Creek, to the largest cultural festival in the Out Islands of TheBahamas.
Highlights of the festival are the excellent crab dishes, the live land crab habitat, the crab competitions, the homecoming of returning islanders, and the awesome "All Bahamian Music Concert."
As for the culinary competitions, the categories are the best crab-and-rice, crab-and-rice with peas, crab-and-rice with conch, crab-and-rice with beans and crab-and-rice with coconut milk.There are also competitions for crab soup with cassava, sweet potatoes, Irish potatoes, carrots, – with coconut milk, dumplings, baked stuffed crab backs, curry crab, boil crab and dough.
Festival-goers also participate in the releasing of the crabs, which is during the opening ceremonies where 1,200 crabs are released in the audience for crab grabbing.
The largest watermelon-eating contest in the country is also held as this is known as the best food for crabs.
Crab Fest is also known for its Eco Corner, where patrons are educated about the environment of Andros.
During this time, patrons can also be educated about the blue holes on the island.
From Nassau one can attend the event via Bahamas Ferries (1-242-393-2166) with a two-hour port -port day away trip that departs Nassau at 8:00 a.m. and departs Andros at 10:00 p.m. at night.