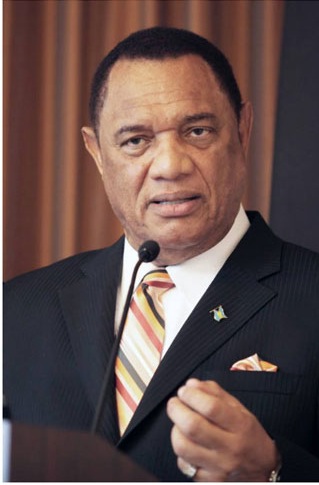 New York, NY – The following is the address given by the Rt. Hon. Perry G. Christie, MP, Prime Minister & Minister of Finance of the Commonwealth of The Bahamas at Caribbean Week Travel and Leisure Luncheon on June 4th, 2014:
Prime Ministers, Ministers of Tourism, Chairman CTO, Secretary General of CTO, other Caribbean and New York officials, Executives of Travel & Leisure, Travel & Hotel Industry representatives, media, Ladies and Gentlemen,
I am delighted to have been invited to address you on the occasion of Caribbean Week in New York, a major premier event on CTO's calendar. This event has specific objectives that are aimed at encouraging travel to membership countries showcasing their diversity to thousands of New Yorkers, and positioning the Caribbean as the most desirable, year round, warm weather destination.
As I look around this room and see the movers and shakers in tourism, I cannot help but to reflect that I personally would not be standing here today if it were not for individuals like yourselves, who drive this incredible business we call tourism.
My late father was engaged in this industry as a taxi driver. His hard work and commitment to providing quality service enabled him to earn a living through tourism, raise a family and put his children through college. So when I say I fully understand the importance of tourism and the work which you, the professionals do – I am a living testimony and beneficiary.
I have also had the wonderful opportunity of having previously served both as Minister of Tourism and Prime Minister, and to have been vitally and strategically involved in both the promotion and long term development of the tourism industry.
Like many thousands of my brothers and sisters throughout the Caribbean, I believe that tourism is everybody's business, whose success is reliant on a strong partnership between the public and private sectors.
Today I address you as the lead spokesperson on tourism in CARICOM and indeed the Caribbean Region. This year marks my fortieth consecutive year in public life. I have always been an untiring advocate not only for Tourism in The Bahamas, but also among the leadership of the entire Caribbean Region.
Another important milestone which we are observing this year is the 50th Anniversary of the establishment of The Bahamas Ministry of Tourism, as an important arm of Government dedicated entirely to the development of tourism and its promotion around the world in a vibrant partnership with a myriad of private sector interests. During this period tourism has advanced to become The Bahamas' number one industry and the lifeblood of the Bahamian economy with beneficial linkages to other sectors of the economy, comprised very largely of service industries.  More and more countries in the Region like The Bahamas have embraced the benefits of tourism, to the extent that tourism is today the single largest foreign currency earner, as well as the fastest growing and most stable industry in the Region. Tourism represents the most important economic engine for both The Bahamas and the Caribbean Region. We are the most tourist dependent region in the world. Each year some 20 million visitors come to experience beaches, swimming, scuba diving, snorkelling, sport fishing, eco tours, local food dining, culture and other activities dependent upon our natural and human resources. They come as individuals, families, for meetings, sports, gaming, educational and health related purposes, incentive awards and many other reasons.  An increasing number of visitors are second home owners or persons using timeshare and fractional ownership facilities. With massive numbers of cruise passengers alone visiting the region, the tourism industry overall generates US $47 billion in annual revenues (or 14% of total Caribbean GDP), and supports 2 million jobs region wide. Over the next decade, tourism is projected to grow by 5% annually.
In May of this year, the United Nations World Tourism Organisation held its small island developing conference in The Bahamas under the theme "Tourism as a key sector for development'. At that conference the Secretary General of WTO presented my country with an open letter of endorsement and support recognizing The Bahamas as a leader in tourism. This is equally recognition for The Bahamas as well as for the Caribbean Region.
We are justifiably proud of the many accomplishments of The Bahamas' Ministry of Tourism over the last fifty years. During most of those years one of the most recognized advertising slogans and product identifiers "It's Better in The Bahamas" has drawn many millions of discerning visitors to our shores, and Caribbean tourism has grown by "leaps and bounds". Let us all use this occasion as a marker from which we can plan and map another 50 years of sustainable tourism growth.
We meet here in New York under the banner of CTO which has aptly determined that its purpose is "Leading Sustainable Tourism: One Sea, One Voice, One Caribbean".  The underlying message is that of unity, togetherness and cooperation. We celebrate our diversity and uniqueness, providing in each country different experiences within what the larger world and geography has determined as One Caribbean. While the proximity of our Region to the east coast of the United States and our diaspora which lives here lends to better knowledge of our various countries, it is from the larger world from which we must seek greater fortunes in tourism that knows us only or foremost as the Caribbean.
In order to do a more effective job in the task of greater penetration of existing markets and creating an awareness in new far flung global markets, stronger public/private sector partnerships will become increasingly necessary.  A step in this direction is The CTO and Caribbean Hotel & Tourism Association forging of a partnership in the jointly owned Caribbean Tourism Development Company, which specializes in the marketing of Caribbean tourism to ensure that marketing and promotion is carried out more effectively on a sustainable basis.
At the same time as we espouse public/private partnerships at the regional level, it is of primary importance that we do so as individual countries. The Bahamas has served as a model in the Caribbean Region of cooperation and partnership between The Bahamas Ministry of Tourism funded by the Government and private sector Promotion Boards funded by resort levies collected from hotel guests, in supporting marketing, promotions and airlift. While this model has served us well over time, with present realities and the ever changing dynamics of the tourism industry, it needs to be overhauled to embrace greater opportunities and yield better results both for business and for the public good.
A Study is therefore now well advanced by an independent firm in consultation with the public and private sector stakeholders, to recommend the pooling of financial and human resources in a more effective, efficient and collaborative process under an amalgamated entity which would take over these functions.  The new entity would be governed by a Board of Directors nominated by the Government and the private sector. As a part of the Study successful models in major, mature destinations are also being examined. We expect to complete this exercise and implement the study recommendations shortly.
The task at hand to grow Caribbean tourism at a faster rate to expand our economies to meet the rising expectations of our growing populations in a highly competitive and challenging global environment, calls for innovation and change in the way we do business and in the quality, variety and delivery of our product offerings.
Instead of relying only on our natural features of sun, sea and sand, as the compelling reasons to visit our shores, we need to add business in its various forms and culture to the mix to inspire travel.
We should take advantage of our heritage and not run away from it, and feature predominately our rich culture, our festivals, our literature and traditions, our wonderful art & craft, the bounty of nature, the abundant and for the most part pristine biodiversity of our land and seas, diverse and awesome topography, our gorgeous seas and beaches, our celebrated music and cuisine.
The human element of our product, the Caribbean people, should be seen as our most important asset. Our people have the inborn qualities with sufficient training and motivation to provide the best service and deliver the best product to be found anywhere.  In an increasingly competitive environment, nothing less is expected by the customer.
The opportunities for year round travel in large numbers in areas such as     sports, religious, medical, educational and cultural tourism, meetings and conventions, incentive and business, travel, the second home market, international business centers and the like, are enormous.  This type of tourism creates spinoff benefits for entrepreneurs, service providers, local institutions, other sectors of the economy and positively impacts government revenues.
Due to globalisation, businesses, government and non-governmental  international organisations are more and more being attracted to developing countries with the infrastructure to support such services, and offer first class residential, hotel, recreational and entertainment amenities and good medical facilities.
To embrace these opportunities, we in the Region must do what we are doing in The Bahamas in upgrading public infrastructure like:
•    The new Lynden Pindling International Airport built at a cost of over $400 million and operated to world class standards
•    The new $30 million dollar terminal facility in Abaco
•    Upgrading of airports throughout built on Family Islands and state of the art communications facilities
•    Creating new docking and harbour facilities in places like Abaco, Andros, Bimini, Exuma
•    Urban renewal in various parts of the country
•    Creation of an Agricultural & Marine Sciences Institute as part of the transitioning of University of The Bahamas in collaboration with the Universities of Miami and the University of Florida with programmes of research, and agriculture and fish products production to meet local demand and for export.
Many of these projects are being undertaken through a growing number of public/private sector partnerships.
On-going success in tourism is only realized through the renewal, upgrade and expansion of the tourism plant. Again The Bahamas is aggressively pursuing this through a mix of new and renewed products like:
•    Fishing and boutique resorts and high end private residences in places in our Family Islands like Abaco, Andros, Eleuthera, The Exumas, Long Island and San Salvador.
•    The $2.6 billion Baha Mar resort, the largest single resort project ever undertaken in one phase in the Caribbean, which opens in December, with an appealing mix of 3,500 plus hotel rooms and 300 plus residences, adding five new hotel brands including Grand Hyatt, Rosewood, Melia, SLS Hotels and the Baha Mar branded hotel, casino and convention center.
•    The Memories 400 room Blue Diamond Resort in Grand Bahama, with airlift from five Canadian and eight U.S. cities.
•    The Resorts World Bimini resort, new casino, daily Superfast Ferry service from Florida, and a new 300 room luxury hotel to be opened in November.
•    High end residential luxury resorts like Albany in New Providence, with major luxury condo hotel expansion, financial and medical centers, golf and tennis academy, and Baker's Bay at Abaco with its third phase expansion
•    The Cove, at Gregory Town, Eleuthera, Samiento's Four Seasons Resort & Golf Club and Cotton Bay Developers mixed use club in South Eleuthera.
•    Sandals, February Point and Crab Cay resorts in Exuma.
•    Cat Island Partners residential and PGA Golf Course project in Cat Island.
•    Club Med and Sand and Ocean refurbishment, new 360 luxury condo hotel units and 125 room boutique hotel in San Salvador.
•    Continued refurbishment and new features at Atlantis, The Bahamas' largest world class resort and entertainment complex
•    Acquisition, upgrade and expansion of One & Only Ocean Club as premier ultra-luxury resort by Access Industries, operator of iconic hotels and owner of Warner Music Group.
The potential and benefits of Caribbean tourism have never been greater.
Before I end my remarks I would like to take this regional forum to touch briefly on three areas which are very relevant to achieving sustained and further growth.
Firstly, we must recognize we are a specialised region and very special countries within the region. Our rich history, our culture and our people are our greatest assets which have impacted world acclaim. We should seize upon them, and methodically work with UNESCO for the establishment and preservation of world heritage sites. This would gather international attention and draw the world to our shores for centuries to come.
Secondly, it is a reality that visitors arrive at our destination both by air and sea, with cruise arrivals growing at a faster rate than air arrivals, and cruise visitors spending less per capita than air visitors. We are a dominant cruise destination accounting for 34.4 per cent of global visitors and projected to increase by 7.3 per cent in 2014 due to the addition of new and larger cruise ships. This is a phenomenon which is not going away and we have as a region debated its pros and cons for quite some time. I strongly advocate that we must be unified in our relationship with cruise lines. We need not be adversarial but collaborative and move to a partnership emphasising the absolute necessary to arrive at a joint view that is in the interest of cruise lines to vitally assist in promoting the host country, maintain the quality of the product, refreshing and creating new attractions and entrepreneurial opportunities, and investing significantly in infrastructure, environmental protection and onshore facilities. As a result, we would achieve an improved product and our countries would benefit enormously from increase spending by passengers and crew.
Thirdly, we must aggressively and in a united manner address the menace of crime and the resulting cautionary travel advisories. While we are vigorously and successfully fighting crime and allocating large resources thereto, the reality is that our biggest challenge is from guns being smuggled into our countries from the outside. We must look to the United States, other neighbouring countries and our traditional allies, which are gun producing countries, to take stronger measures to work more closely with Caribbean governments to prevent the smuggling of guns into our countries. Guns must have no place in Caribbean societies.
I sincerely hope that I have inspired you today into believing that the brightest and best days in Caribbean tourism lies just before us, brilliant as the Caribbean sun.
Finally, let me congratulate the Secretary General of CTO Mr. Hugh Riley and his staff on the great work which they are doing on behalf of the Region. I also want to thank Travel & Leisure, the sponsors of today's excellent lunch for their continued support of Caribbean tourism. May you all have a successful week in New York.